5 Star Guest Communication From Check-in to Review
You've organized the check-in and welcomed your guests without any troubles. That's great! Yet, there are always other things that you can do for a better experience for your guests. Here are some tips to have a better guest communication: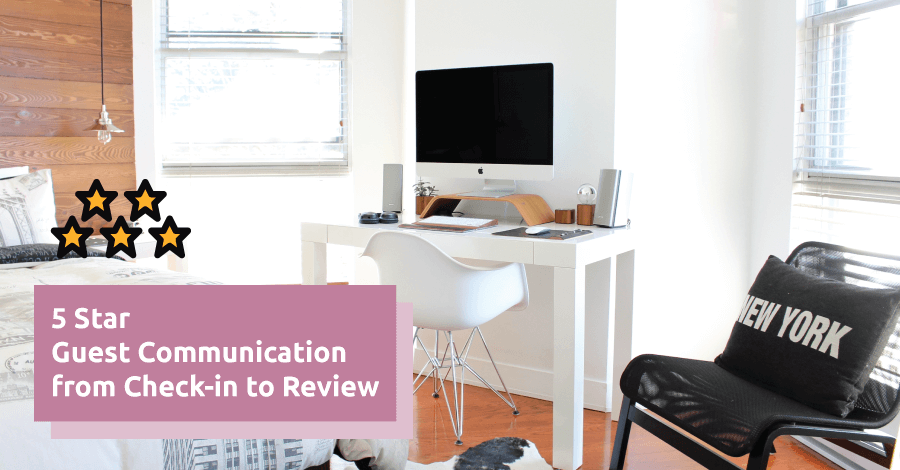 ---
Welcome packs
Your guests are more likely new in the town. They may need a little help about practical stuff. You can offer them a package including a brochure about the local area, and suggestions on nice restaurants, cafes, and pubs. Your package can also include train and bus maps that they can use to come home from the city center, timetable of public transportation, and even one public transportation card.
You should also include the Wi-Fi password, in your welcome pack. Internet connection will probably be the first thing they ask when they come to your house. If you want to go a step further, you can provide some necessary things for your guests such as bottled water, crackers or local snacks.
First Night Check
After the first night of the stay, you can send your guests a message and ask whether they need anything. By doing that, you can learn if something is wrong, broken or not working in your rental and fix it from the beginning before it turns into a bad review. Believe me; your guests will appreciate your effort when they leave a review at the end of their stay. Here is a sample message that you can use after the first night:
Hi [Guest Name]!

I hope you've settled in ok and had a pleasant first night in [City]!

If there is anything that I can do to make your stay more comfortable, please don't hesitate to ask me and I will sort it out as soon as possible!

Enjoy your stay,
[Host Name]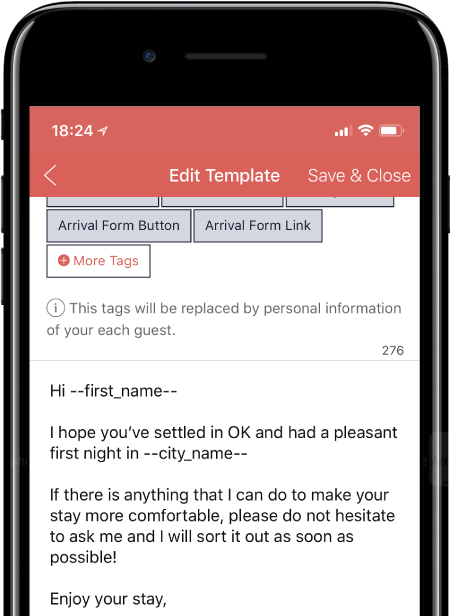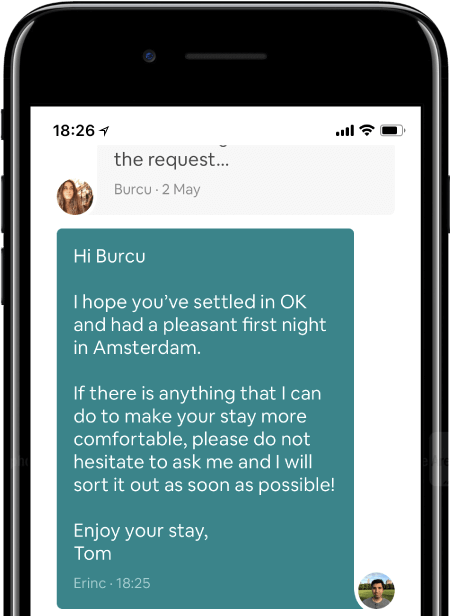 You can even automate this message with a smart app, keep reading!
Check-Out Reminder
On the last day, you can give your guests a gentle nudge and send them a message to remind the check-out date and time. It is useful to prevent delays in your plans but also a kind way to remember them to lock the door, leave the keys or set the burglar alarm. If your property is available for the following days, you can also offer them an option to extend their stay or a late check-out. By doing that, you would be making a reasonable offer to your guest and an extra revenue at the same time.
Post-stay Message for a Review
After they checked out, you should send them a short post-stay message and kindly ask for a review. In your message, it's better to make it clear that you are thankful for their stay and they will always be welcomed.
Remember, it is almost always easier and cheaper to turn your guests into regular guests than enhancing new relations with new guests. You can use that to your advantage by a simple message.
Your message might include:
Personal addressing, you can address the names of the whole group if any
A request for a review on how their stay went
Information on how to book again (you can offer deals for their next visit, or you can mention your discount seasons if you have any)
Automate the Things You Regularly Do
If you have a good experience with hosting, now it is time to automate the things that you do for each guest. Your Porter App can be a very useful tool which you can use on your smartphone or computer. You can create your own message templates and schedule them to be sent at the desired time. You don't have to deal with every single message anymore; they will be sent automatically for you.
Your Porter App can even make reviews for your guests and ask a review in return, fully automated!
All these automation features will save you time, and your guests will love the personalized way you treat them. You can register for Your Porter App for free and start your 14-day trial now. If you manage several listings, it will prove to be the handiest tool with the best pricing out there.