How I doubled my Airbnb listing's pageview in 4 weeks
As an Airbnb host with multiple listings, I started to use Porter to ease and automate most of my daily work. Things like collecting guest's arrival information, scheduling cleanings with my cleaner and managing availability calendars were handled super smooth by Porter App; my got life easier! After several weeks, while I was checking my stats on Airbnb.com I noticed that one of my listings was getting significantly more pageviews. When I sorted the data from Airbnb I got the following graph.
Total number of pageviews of two listings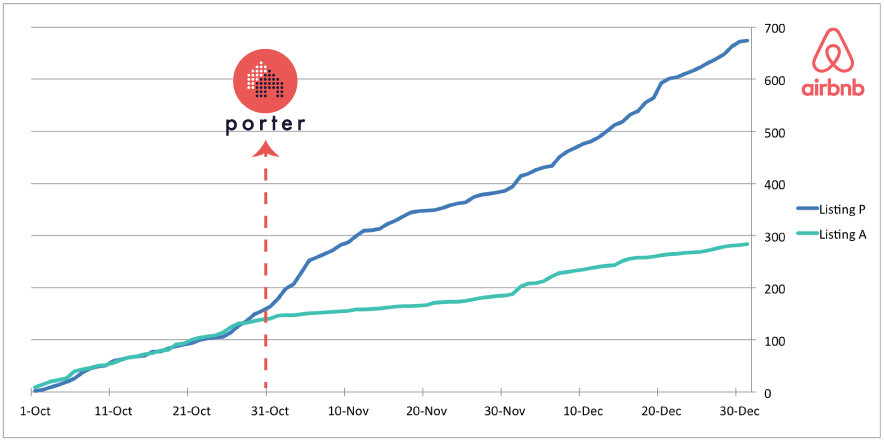 I started to use Porter at the end of October and monthly pageviews doubled in 4 weeks.
---
When I started to use Porter at the end of the October, I have synced calendars of my listings with Porter. Accidentally, I forgot to sync one of my listings with Porter and did not notice it until the end of December. Not planned, but after 3 months, I had the chance to compare two very similar listings with each other to see if Porter really brings anything. It is a smart and reliable test because two of the mentioned listings were almost identical.
Let me tell you more about those two listings. I consider them very similar because they are in the same building (same location) and have a look-alike design (very very similar photos). Besides, neither of them has noticeably better reviews. For better understanding, I will label the one with Porter as Listing P and the other one as Listing A for the rest of my blog post.
It is widely known that Airbnb has an algorithm to sort listings in the search results. Some complex rules determines your listing's search ranking. There are many factors affecting this search position directly:
Your reviews
Response rate/time
Price range
Location
An up-to-date calendar
Yes, Airbnb wants that guests book immediately when they love a listing and that's why they prioritize listings with most up-to-date calendars.
Whenever you change the availability of a day on a listing's calendar, Airbnb spots it as "Updated today". However, if you are only listed on Airbnb, you do not usually modify your calendar very often. In that case your calendar is shown as updated only after you get a new reservation. I have seen some optimization tips for Airbnb before, where people suggest that you make a random day unavailable and then available again, so Airbnb marks your calendar as "Updated today". :)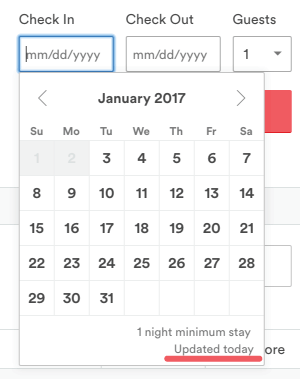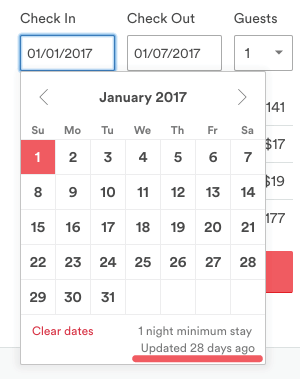 Two calendars of two different listings in the same city. Left is from first page, and the right is from last page.
There must be an easier way to manage calendar availability! For every listing you manage on Porter, it creates an hourly updated calendar link for you. Add this link to your listing's calendar on Airbnb and let Porter update your calendar on hourly basis. Each time Airbnb checks your calendar,it will see it as up-to-date and this will give you a boost on your listing's search position.
Now, back to my little test results: If you compare the photos, locations and reviews, there is no obvious reason that one listing outperforms the other. You can even say that the photos of Listing A are more cheerful and sunny than Listing P (It was a good day when Airbnb photographer took photos of my listing. :) I read many things about tips and tricks about Airbnb on the internet, and they are mostly accurate and helpful. In my case, I want to see a concrete proof for the benefit of Porter. I enjoyed this experiment so much because it was very helpful for understanding the peak Listing P made. I always believe in a good mix of art and science. :)
If you are interested in giving a boost to your Airbnb ranking in search results, you can register for Porter now and set up your account in less than 2 minutes. Do not forget to sync your Airbnb calendar with Porter and start getting more travellers looking at your listing when they search a place to "live" during their trip to your city.
Relevant data comes from Airbnb's stats page. If you want to check original data, please feel free to view my pageview stats for October, November and December.