Data answers: How to handle guest communication for a better income?
A sustainable success at hosting on Airbnb and other OTAs requires some careful work on your business. According to several successful Superhosts on Airbnb, one of the most important milestones is having a continuous guest communication.
As an Airbnb Superhost with multiple listings, one should have a plan for the guest communication which contains a predetermined timeline. Through this article, we'll try to review these important points on the communication timeline together.
After the confirmed reservation / requests
First and obvious, the communication starts with a confirmed reservation or request. For reservation requests, it's important to meet your guests' needs and answer their questions clearly. However, if you directly receive a reservation request(well, first, congratulations!), you can always start the communication with a quick thank you message. It might be clever to have some automated messages for these kind of messages as it will make your job way easier, especially if you are hosting for multiple listings.
The, so-called, thank you message can also include some information regarding the next steps. In case the check-in date is more than a week later, you can say that the check-in instructions will be sent prior to the reservation (we'll be discussing the correct timing for that later) instead of sending these instructions right away. By this way, you'll be contacting your guests briefly but more often, and also, your guests will be confident since they'll know when to expect the check-in information.
Prior to the check-in date: Check-in Instructions
The second step on the guest communication in our timeline is prior to the check-in date. Again, for this part, you can always take advantage of automated messages which will save you tons of time and also prevents the risk of manual mistakes, such as completely forgetting about a guest of yours!
One question for this part is the timing of your prior-to-the-check-in message. For this matter, let's take a look at some real data of the professional hosts! Some hosts' check-in related automation rules are observed regarding the timing of the automated messages.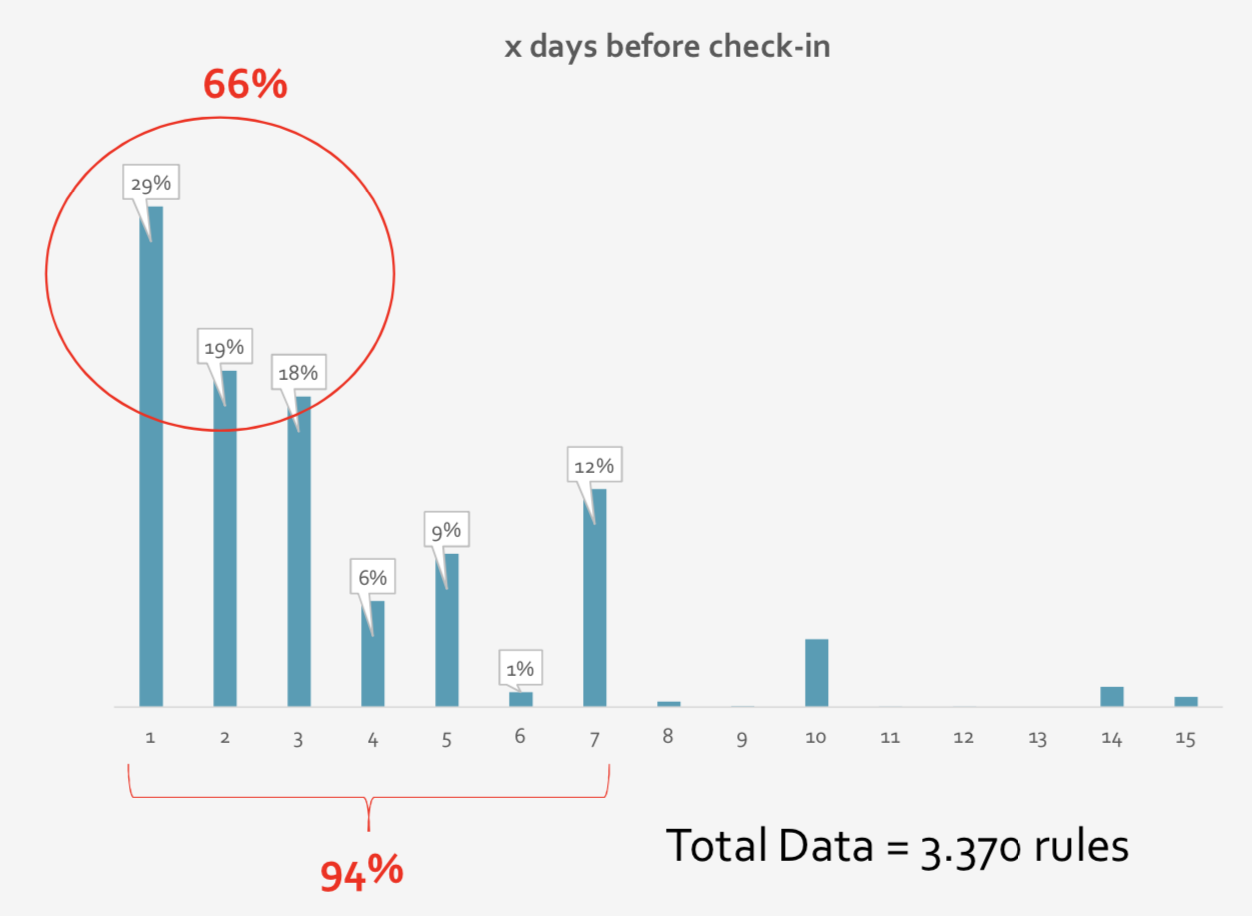 As you can see from the graph above, 94% of the check-in related automated messages are scheduled to be sent at 1-7 days before the check-in date (66% of the messages are sent 1-3 days before).
The result of this research indicates that sending the check-in instructions at least one week before the check-in date is preferred by most of the successful Airbnb Hosts. Also, the type of these automated messages is observed during the research and 77% of these automated messages are sent via native Airbnb message. Also, 17% of the messages are sent via e-mail and 6% via SMS.
Check-out Instructions & Review Reminder
The third step on the guest communication can be an automated message with check-out instructions if there are any required information on this matter. That way, your guests will be informed with the related instructions without missing any detail along with the use of automated messages.
The last step will be mentioned in this article carries a significant importance since it triggers a key factor for better search results and higher income. It's obviously very important to have 5-star reviews on Airbnb because your Airbnb search result will be getting better and enable you to get more reservations. Also, you will get reviews from the guests in return! Therefore, you can send a reminder to your guests after their check-out to complete a review for their stay.
For the timing of this message, we found out that most of the successful Airbnb hosts send a review reminder message to their guests after the guest's check-out date. 68% of these messages are sent 1 or 2 days after check-out. Also, 72% of these messages are sent as a native Airbnb message, while 18% of them via e-mail and 10% of them via SMS.
However, there are two important issues for these messages. Firstly, you need to send these messages to your guests which haven't completed a review yet. The second issue is that you may want to cross out the guests that you think they will not give you the review you want (just in case 😊).
As far as these two issues are concerned, you may think that automated messages cannot be useful for this case. That's the point that makes Your Porter App a strong message automation tool, which will give you some significant advantages.
For instance, you can create a message automation rule related to the check-out date (let's say you want to send an automated Airbnb message to your guests 2 days after their check-out )and add a filter to your message as 'Review Reminder'.
By this way, your message will be sent only to your guests which haven't made a review yet. Also, you will always be in control about your reviews, and stop an automated review job, if you do not want to give 5 star review to your guest.
All these automation features will save you time and your guests will love the communication on their Airbnb experience.
You can register for Your Porter App for free during 14-day free trial and start trying its useful features for your Airbnb business. If you manage several listings, it will prove to be the handiest tool with the best pricing out there.