How Auto Snooze can Help to Improve your Ranking in Airbnb
As an Airbnb host with 12 listings, I have been working on understanding the Airbnb's search algorithm for a long time. 3 years ago, I discovered coincidentally that updating the calendar on a regular basis, gave me a great boost on page views in Airbnb. You can check the summary of my experiences in another blog post: How I doubled my Airbnb listing's pageview in 4 weeks
As you may already know, I'm the creator of Your Porter App's Airbnb Ranking Reports which we offer to everyone for free since May 2017. So far, we have created more than 500K reports for thousands of Airbnb hosts. I can assure you that more than half million reports taught us a lot about the factors which affect Airbnb search position besides being an awesome host :)
I am an Airbnb host with 700+ reviews, and I'm well aware that the best way to position your listings on top of search results is getting 5 star reviews (and even perks with the new review system of Airbnb similar to Uber). In addition to the great experience you offer to your guests, a software or tool, can only help you in a certain way which we summarized in another blog post from Irem here: 5 Hints for Ranking Higher in Airbnb Search Results
Interestingly, last month, I learned about another way of boosting your listing's performance in Airbnb search results. This time this was not my discovery but a direct statement from an Airbnb support representative named Morgen, in an answer to a support ticket by Steve complaining about his listing disappeared from the first pages of search results recently.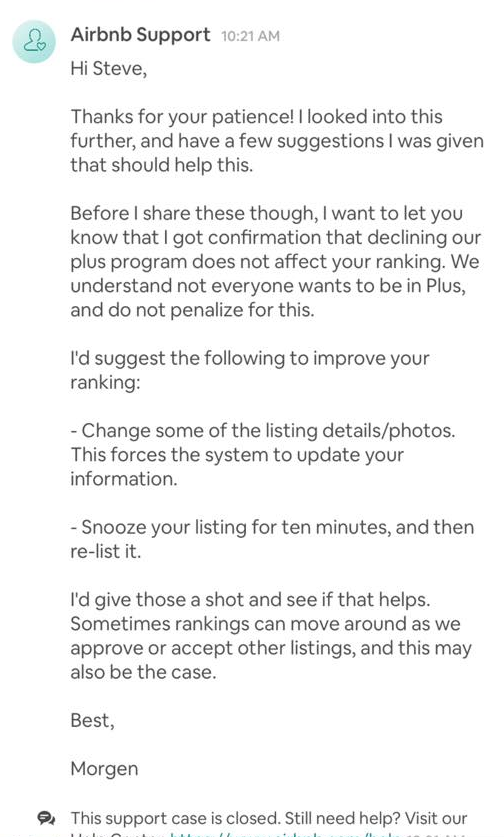 Morgen from Airbnb was suggesting to snooze the listing for 10 minutes and then re-list it for better search results. She clearly stated that it would improve the ranking of the listing similar to editing some listing details or photos. You can take a look at the screenshot attached for the whole answer of Morgen from Airbnb.
After I saw the email, I immediately started to try it with my own listing. The first thing I noticed was that the "Last Modified" date in the listings view changed to "a minute ago". According to my previous experience, updating the listing's description and photos already had a positive effect on the search performance, which was already mentioned by Airbnb support. It seems like auto-snoozing has a similar effect on the updating the last modified date of a listing.
After a few successful days of snoozing and re-listing my listing, I asked our developer Sarah at Your Porter App to edit our existing Auto-Snooze feature interface. Previously, we were only allowing hourly intervals for triggering the auto-snooze feature. With a quick update, we started to allow our users to snooze their listings for 10 minutes of intervals.
While we were testing the auto-snooze feature with some of our users' listings, I kept an eye on their Airbnb ranking reports. Here are two significant examples. One from Atlanta, GA and another from Lisbon, Portugal. I marked the dates in which those listings activated the auto-snooze feature. Although there isn't a dramatic increase on their search position, it seems like the auto-snooze feature helped the listing in Lisbon to jump from 200-300 margin to first 100 position on search results. On the other hand, for the well-performing listing in Atlanta, auto-snooze feature helped to secure the position in the first 10 listings.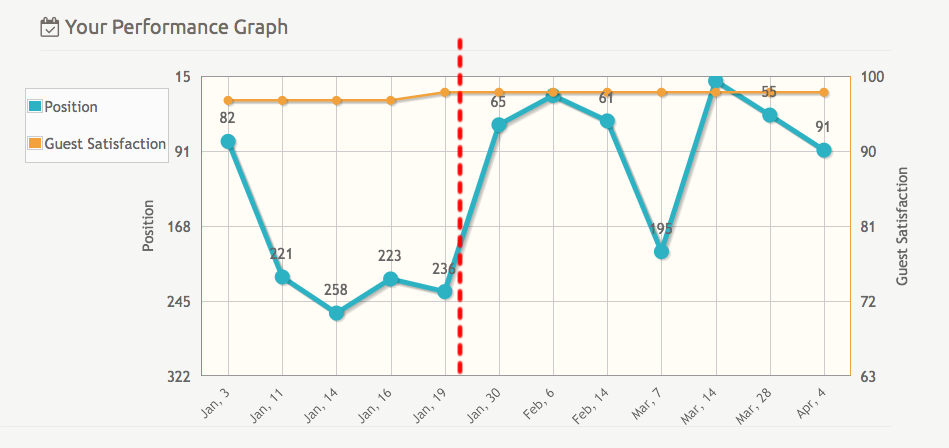 Airbnb Search Results for the listing in Lisbon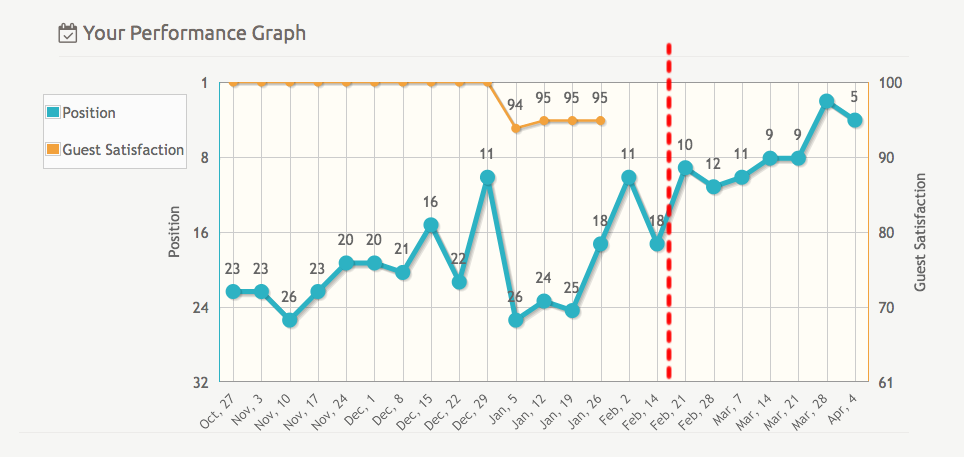 Airbnb Search Results for the listing in Atlanta
Considering the support email from Airbnb and few test results, I believe that it is worth trying to snooze the listing each day by 10 minutes to force Airbnb's system to update the listing's information. Instead of doing it manually during the day, Your Porter App's Auto-Snooze feature can help you snooze your listing during the relatively passive hours of the day like 3:00 am to 3:10 am and inform you with push notifications to make sure everything is working as expected.
You can try Your Porter App's automation and channel manager features for free during the 14-day free trial and lead your Airbnb business to the next step with the help of our iOS, Android and web apps.