How to Continue Receiving Guest Emails on Airbnb?
Did you notice that your Airbnb guest emails started to disappear for a while?
Airbnb has announced that they will stop sharing even the masked email addresses of the guests after August 2020. Those masked email addresses would become unavailable after 2 weeks of check-out anyways, so we believe that Airbnb is retiring a feature that creates a serious amount of infrastructure costs. Considering they laid-off 25% of their workforce, this can be another cost-saving operation.
While it is still not possible to send attachments (except photos) in the Airbnb chat, we heard that Airbnb is working on this feature currently.
Is email communication dead?
If you have been sending your guests informative emails like booking confirmations or check-in instructions, you will notice that there is no email address of your guest in the Airbnb reservation details anymore. There are various reasons to use emails when communicating with your guests. You may think that not all of the guests are using the Airbnb mobile app, but many of them are checking their email boxes frequently. Alternatively, you may have been sending attachments with emails so far.
Most of Your Porter App users are utilizing automated emails for passing important messages to their guests. When they noticed that the automated emails are not delivering to the guests anymore, they noticed that something has changed!
Is it possible to bring back the guest emails?
This is not an irreversible change (yet). So you can still get back your email addresses of your guests as you have used to. Once Airbnb announces the attachment feature in the Airbnb chat, they may remove the email access entirely.
For now, you just need to turn it on a setting that is in the "attestation form" under the professional hosting tools.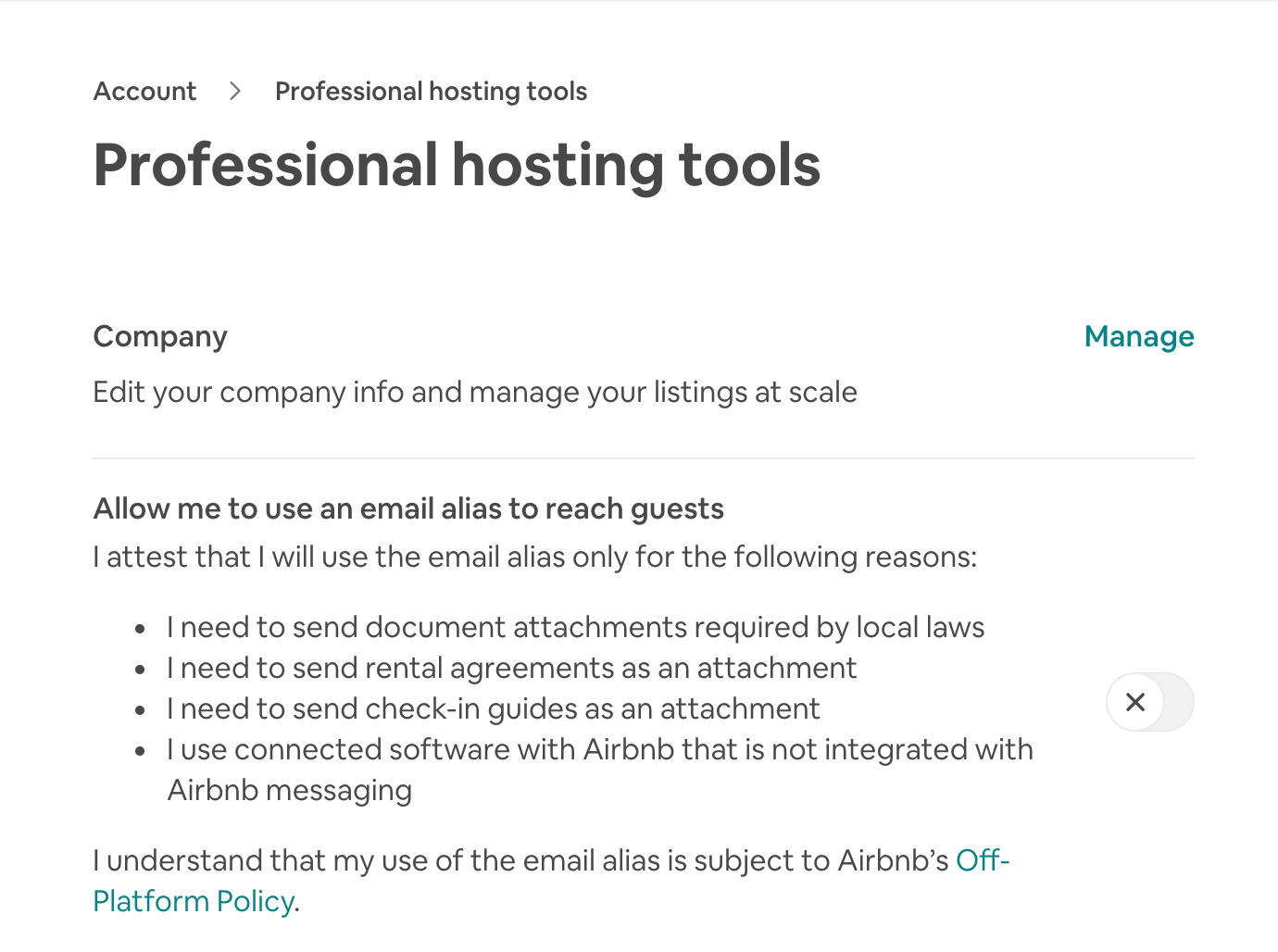 With the changes in the email alias feature, Airbnb also updated their Off-Platform policy. Make sure you reviewed the policy before you submitted the attestation form so that you do not violate the policy when emailing to your guests.
Your Porter App is the leading all-in-one platform for Airbnb management. In addition to the automated messages, we offer channel management and a direct booking website for professional Airbnb hosts. Your Porter App is the only mobile-first solution providing all of its features on native mobile apps for iOS and Android. You can try for free during your 14-day trial.