Everything you need to know about Airbnb's New Host-only Fee
Airbnb is now offering a new type of service fee structure in addition to what we have been used to for years.
Split-fee Pricing
Traditional
Host pays 3% from the total payout and guest is charged a Service Fee which varies between %13-20.
Simplified Pricing
New
There will be no service fee visible to the guest and the host will pay 15% from the total payout
How to decide which model to use?
Airbnb has made the Simplified Pricing mandatory after the 7th of December 2020 for the hosts who are connected to a 3rd party software. If your listings are in one of the countries below, or you are not connected to software, you can still choose which structure you prefer to use by going to your Airbnb account.
United States
Canada
Mexico
Bahamas
Independently of the location, if you have at least one traditional hospitality listings (aparthotel, hostel, serviced apartment etc.), you will be switched to host-only fee and you won't be allowed to change it to split-fee.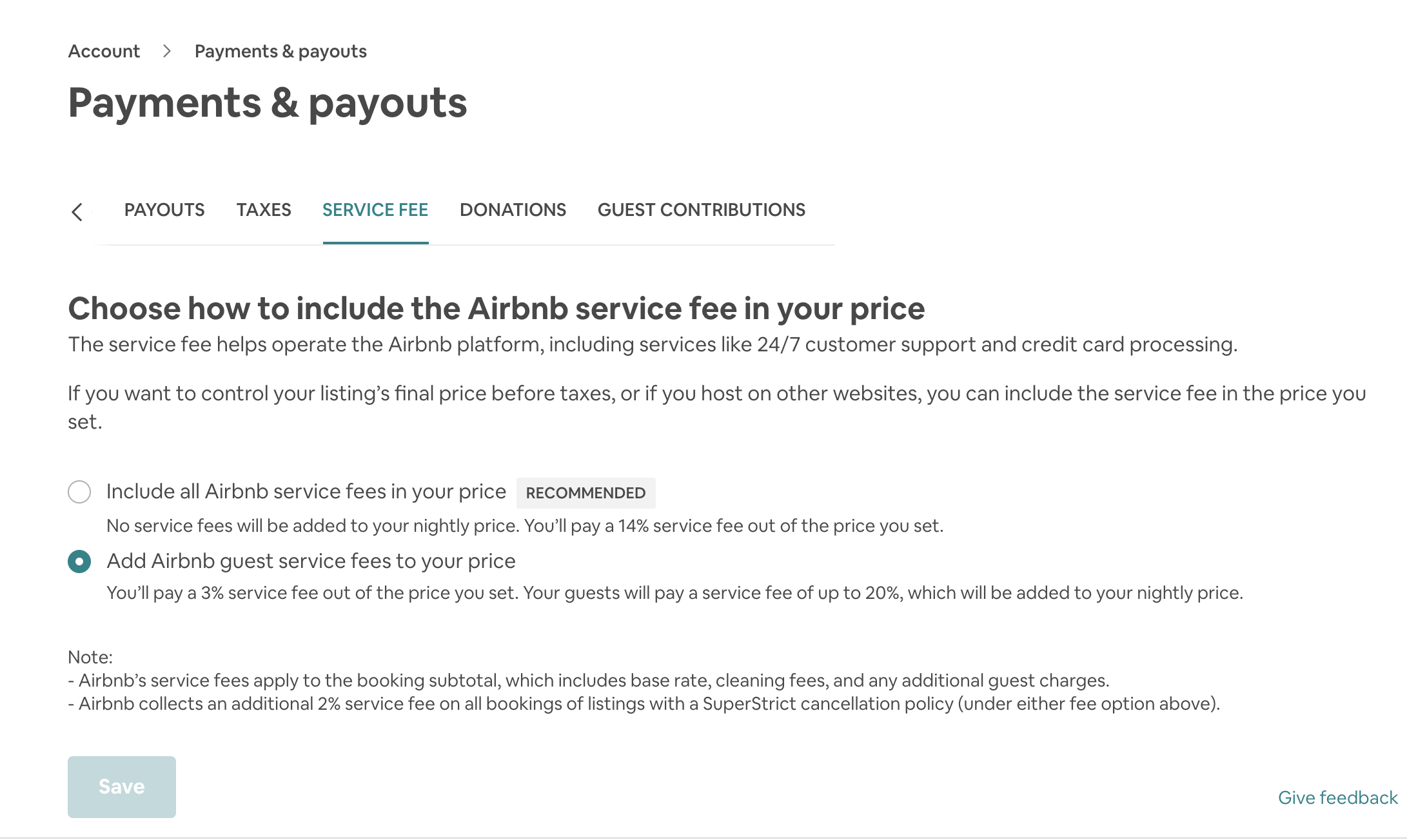 Before deciding about the fee structure, let's make some calculations to see how these two structures affect how much guest and host pays for a reservation.
How much do my guests pay to stay at my place?
This was an unanswered question with the current structure Airbnb had. We used to name our price for our property, and Airbnb would put a service fee on top of that. The hosts would never know how much the guest actually paid to stay at their place. Airbnb's guest fee varies between 10-20%, probably determined by multiple factors like length of stay, traveler's country, and more...
With the new Simplified Pricing structure, the host has full control over what the guest will pay in total and there will be no guest fee added on top of the final rate. This was the structure that is used by Booking.com for years.
This is how it looks when you switched to Simplified Pricing. The guest will see $0 Service Fee and an explanation when they click to learn more.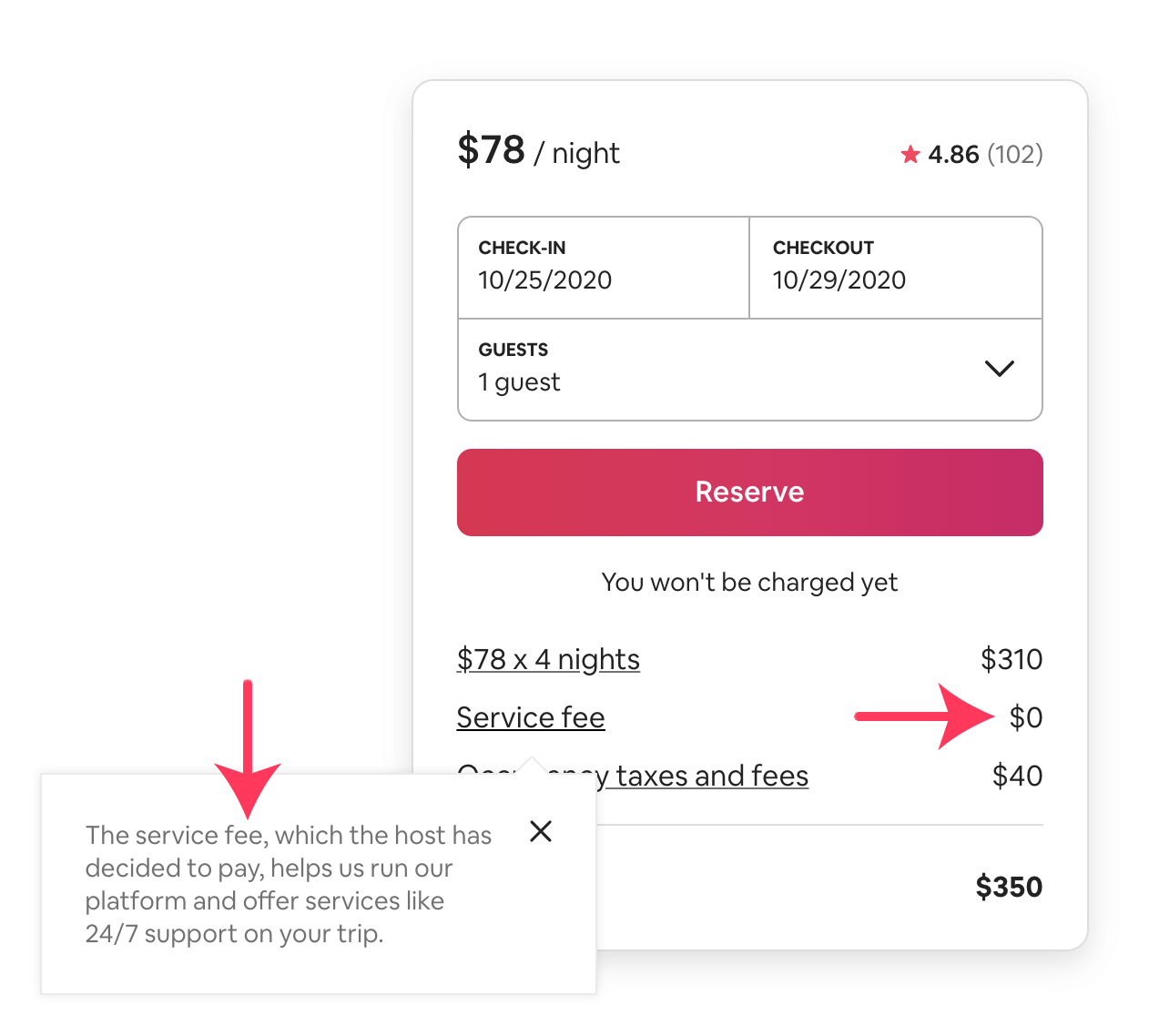 Let's compare how much a guest pays and how much a host makes under several scenarios for the traditional Split-fee and the new Simplified Pricing. We will compare a 3-night stay with a nightly rate of $100 in our examples. I searched my property from two different locations and the service fee for the guest was around 16-17%.
Breakdown
Split-Fee
(Current Pricing)
Simplified Pricing
(Do Nothing)
Simplified Pricing
(Rates +14%)
Simplified Pricing
(Rates +15%)
Accom. Fee
$300
$300
$342
$345
Cleaning Fee
$80
$80
$91
$92
Service Fee
$65
$0
$0
$0
Occ. Taxes
$49
$49
$56
$57
Guest Pays
$494
$429

13%

$489

1%

$494
Host Earns
$368
$323

12%

$368
$371

1%
When you investigate the numbers in the table above, you can see that you need to raise your rates and cleaning fee by 14% if you want to keep earning the same amount. Alternatively, by taking the advantage of the simplified pricing, you can raise your rates by 15%, which makes you earn 1% more while the guest pays the same. This is your own business decision to use the new structure as a competitive advantage against similar listing like yours or simply give a small boost on your revenue.
Another thing to note is that I made the calculation where some occupancy taxes apply (Florida, USA). When your accommodation fee goes higher, the tax your guest needs to pay gets higher as well. However, there is still a margin to cover that with the Simplified Pricing's lower service fee. If your country does not charge extra taxes, you have an extra margin of 1% to use for your benefit or competitive price advantage.
If you are hosting longer stays (28 days+), Airbnb's service fee drops roughly to 10% in the current structure. In this case, switching to the Simplified Pricing might be disadvantageous for you as the Host Service Fee is fixed to 15% for the new pricing structure. It is not adjusting with the length of stay for now. We shared our feedback with the Airbnb team about the longer stays, let's see if they will apply new terms for longer stays in the future.
Which one is better at the end of the day?
Airbnb states that during the test phrase of Simplified Pricing, the listings with the new price structure secured up to 17% more booking comparing to the listings with traditional service fee. You can take a look at Airbnb's information sheet about the Simplified Pricing.
Some of the other advantages of Simplified Pricing can be summarized like that:
Have full control of what your guests pay to stay at your place
Remove an extra price item of service fee from guest's side
Have similar price structure on all platforms like Booking.com
Increase your payout while guest are paying the same amount
On the other hand, you need to be aware of the facts that:
Your nightly rate will look higher than competition
Guest expectations may increase with the visible nightly rate
The host fee may be ended up being more for the longer stays
Considering all the facts above, you need to choose the best option for your business and adapt to the changes. As Airbnb strongly recommends the new Simplified Pricing, there are reasons to believe that you may get more exposure in the search results after switching to the new structure.
How to adapt to the new Simplified Pricing
If you decide to switch to the Simplified Pricing or you are obliged to use it for a reason (using a 3rd party software in selected locations), you definitely need to increase your rates 14-15% to keep your final payout on the same level. Please keep in mind that the service fee applies both on accommodation fee and cleaning fee, so you obviously need to adjust your cleaning fee as well.
At Your Porter App, we have an automated system to adjust everything according to your strategy. You can do it immediately after switching your settings in Airbnb or schedule the change for a future date if Airbnb makes the change obligatory after a certain date.
Please keep in mind that if you adjust your Airbnb rates, you need to edit your mark-up settings on different channels
to reflect the correct rates for your listing.
Your Porter App
will automatically calculate your daily rates and adjust your calendar on other platforms like Booking.com and VRBO.
You can try Your Porter App for free during your 14-day trial. We offer automated messages, channel management, and a direct booking website for professional Airbnb hosts. Your Poter App is the only mobile-first solution providing all of its features on native mobile apps for iOS and Android.