What is different in Booking.com for Airbnb hosts?
I am sure you've ever booked a hotel via Booking.com. For the last couple of years, Booking.com started to focus on Airbnb-type vacation rental units on their platform. While listing your property among the well-known brands like Hilton and Marriott, and filling the gaps in your calendar sounds cool; two giant websites have a handful of differences when it comes to how they operate.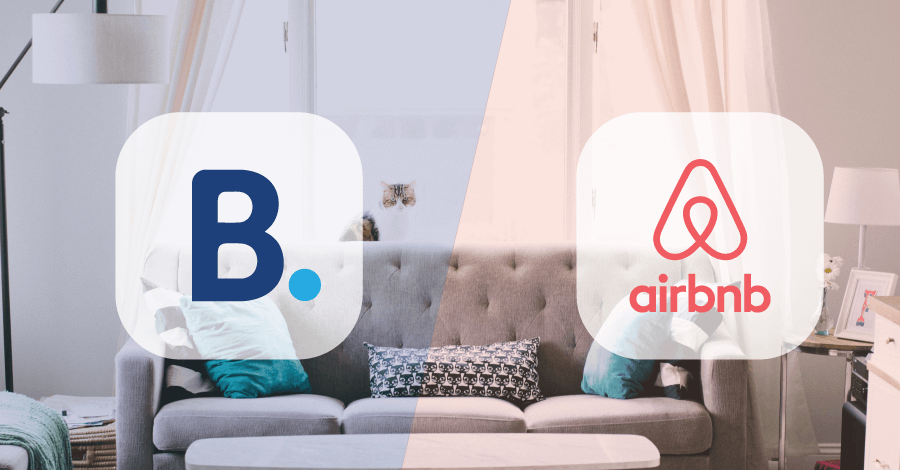 I understand that those differences might be confusing at the beginning, but remember; many hosts take that extra step and list their homes in alternative sites while reaping the financial rewards of it. We assure you the effort you will make to understand Booking.com worth all the time and energy! Here are some critical differences between Booking.com and Airbnb; and common questions explained for you to increase your occupancy rate!
How do guests differ among Airbnb and Booking.com?
Along with the various verification methods, Airbnb also has two-way reviews where you can leave reviews for your guests too. Even though this is very useful for keeping your guests responsible for their actions, Booking.com doesn't have it. While in Airbnb you have the opportunity to check the reviews of your potential guests before accepting a request, guests don't have any reviews in/at Booking.com.

As you know, Airbnb guests are eager to ask questions before they book your place. Sometimes, you answer tens of questions (including discount requests) about your property and still end up getting a notification that the guest has booked another place. I remember how disappointed I was when it happened several times to me. In contrast to Airbnb, reservations get confirmed without prior guest communication at Booking.com.
Another thing to know is that guest's expectations from your place might differ. Since Airbnb guests are aware that they are going to stay in someone's home, their expectation will be accordingly. Whereas guests of Booking.com are more likely to expect a place at the hotel standards like 24-hour check-in, complimentary towels, and toiletries. If you are already close to those standards, you are good to go.
How much will I be charged?
Every transaction involves two parties: the guest and the host. While Airbnb charges both parties, Booking.com doesn't charge guests any fee to book. On the other hand, it charges hosts with a percentage of the total booking price which you need to pay back at the end of every month.
So, if you want to list your property on both sites, you need to take that difference into account. Otherwise, you might end up with less money than you think you would earn. I am sure that this commission-free policy of Booking.com make your guests feel better and increase the booking rates.
How can I handle payment issues?
Airbnb collects the payment on your behalf and pay you through your payout method on check-in day.
If you use Booking.com, on the other hand, you generally need to handle the payment procedure by yourself. You will receive a credit card number from Booking.com to guarantee the reservation when someone books your place. That information is only accessible for the 10 days after the reservation has been made. In case of a no-show (no one shows up on the day of check-in) or last minute cancellation, you are on your own to cover your potential gain. For example imagine a reservation booked several months ago and your guest canceled it at the last minute. Because you don't have the access to credit card information anymore, you will end up with an empty property.
How does the cancellation policy works?
Although Airbnb has started to implement more flexible and free cancellation options (and sometimes even force hosts to apply them), cancellation rates are quite low since the guests make a payment when they book your place. When creating your Airbnb listing, you can select one of the three standard cancellation policies and decide if you can still receive the booking amount in case of a cancellation.
In contrast to Airbnb, most of the Booking.com properties don't have a pre-payment requirement and have free cancellation which is very useful for guests and not fun for hosts. Although you have an option to choose non-refundable booking, it is not preferable by guests among those refundable options. Although it is understandable that cancellation rates are higher in Booking.com, that also means you need to adjust your calendar regularly and make sure there is no difference between your Airbnb and Booking.com calendars.
But still, by listing your property on Booking.com, you can create some extra revenue for your unoccupied nights and avoid putting all your eggs in one basket.
Airbnb vs Booking.com
Pros
More reservations for vacant days
More visibility
Bookings with less prior conversation
Higher booking rate
Cons
Complicated payment handling
No guest reviews
Higher cancellation rate
Constant need of synchronization
Once you decide to list your property and go live at Booking.com, you need to make sure you do not get overbooked on the same dates. Imagine two guests are arriving for the same property at the same day. One from Airbnb and one from Booking.com, it should be a nightmare.
Your Porter App syncs the calendars between Airbnb and Booking.com in real-time. This means, whenever you get a reservation on Booking.com, it immediately closes those dates on your Airbnb calendar. (and another way around of course) Considering different commissions structures between Airbnb and Booking.com, using Your Porter App, you only update your prices from a single calendar, and your nightly prices will be updated accordingly, so you make sure you make the desired amount no matter where the reservation comes from.
Following all reservations from a single calendar and enjoying iOS, Android and web apps of Your Porter App gives you great flexibility to manage your properties professionally on the go. Just to summarize, the key to getting more reservations are listing your properties on multiple channels and sync them with each other hassle-free with a smart tool like Your Porter App.