Setup Payment Processor
Your Porter App can automatically store the credit card details of your guests. You can later charge your guest's credit card according to your pricing policies. If your property in Booking.com is eligible for Payments by Booking.com or you want to handle credit cards manually, you can disable this feature. Although this is a super useful feature for hosts, it is not required to activate credit card processing in order to use Your Porter App as your channel manager.
Among many solutions for credit card payments, Your Porter App has partnered with Stripe to store and charge credit cards. In order to use the credit card data coming from Booking.com, you need to have a Stripe account. It is suggested to open a Stripe account before starting the integration between Booking.com and Your Porter App. If you do not have a Stripe account yet, you can create a Stripe account very easily.
If you do not add a Stripe account to your property or select Payments by Booking.com option, Your Porter App will not be able to store your guest's credit card information in any way.
Thanks to the security infrastructure of Stripe, Your Porter App never has access to your guest's credit card details. When you get a new reservation from Booking.com, Your Porter App creates a customer in your Stripe account. Once the credit card details are stored in your own Stripe account, you are able to charge the customer anytime you prefer according to your policies.
You can use different Stripe accounts for different properties on Booking.com, that's why you need to add your Stripe accounts first and then link it to your properties. You can link your Stripe account by clicking Add New Stripe Account on Menu > Booking.com > Stripe Accounts.
If you already have a Stripe account, you can Sign In by clicking the link in the upper right corner of the page. Once you confirm your account with Stripe, you will come back to Your Porter App to give a nickname to the Stripe account you have added. For example, it is useful if you plan to add different Stripe accounts of different landlords.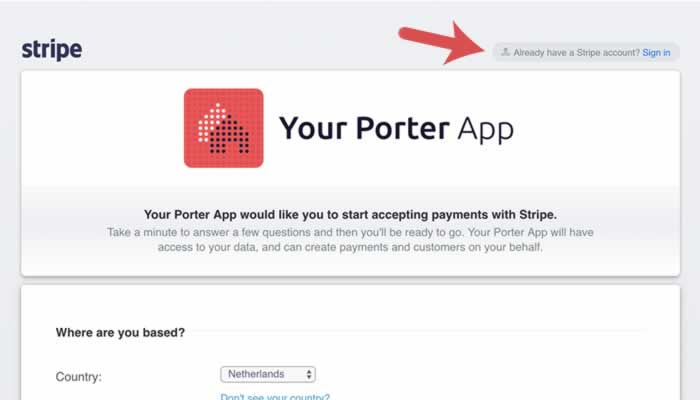 Once you have added your Stripe accounts to Your Porter App, you are ready to continue with linking Booking.com account to Your Porter App.
---