Calendar Views
You can easily control all your listings' calendar in one place in Your Porter App. There are two different calendar views and depending on the process, you can switch between these two.
Calendar menu opens Reservations View by default, you can switch to Pricing View to view/edit availabilities and prices.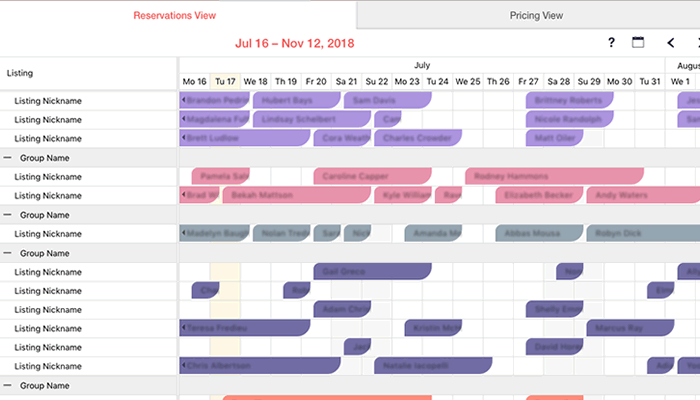 ---
Reservations View
The first one is Reservations View where you can see your reservations from different channels in one single dashboard. You can click on a reservation and see the details of it. In this view, your listings are sorted alphabetically according to their group names (same color) and nicknames.
If you click on the group name, you can hide that group in your Calendar View.
Also, you can add a manual reservation from Reservations View.
In order to add a manual reservation, please click on one of the small white boxes (keep pressing it for a while) in the screen and drag it until the day of check-out. After this, a pop-up in will be opened. You can add the reservation details here. Please click to the submit button and your manual reservation will be added to your Calendar.
We show the following 3 months on your screen by default. You can change the date interval with the help of two arrow marks on the right top corner of the screen.
If you click on the small calendar icon on the right top corner, you can change the calendar view to monthly view.