Reservations View
While using Your Porter App, you have a chance to keep track of your different calendars on various platforms in a single dashboard. Your reservations, as well as daily rates and availability information, will be displayed in Your Porter App's unified calendar.
If you go to the Calendar section, there will appear two different outlooks: Reservations View and Pricing View. As the names already give the idea, your reservations from all channels are shown in Reservations View while the daily rates, availability, and minimum duration of stay are shown in Pricing View.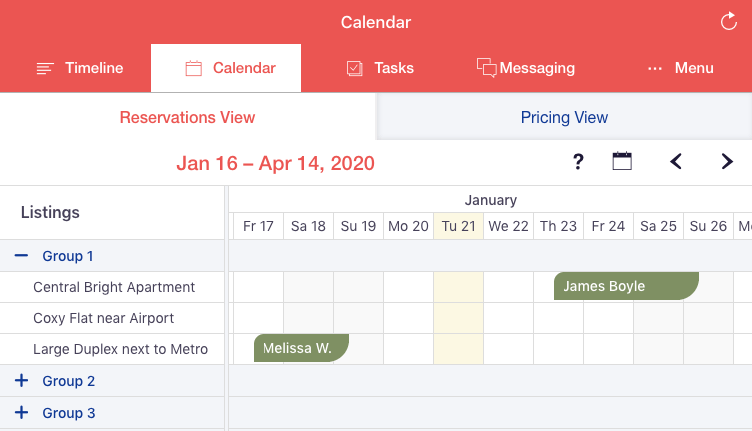 Only the listings under the first group are shown at first glance, you need to click the group names on the left-hand side to open the other groups as well. By the way, you can always move your listing to another group from Menu > Your Listings; besides, there you can assign a different color to each group.
If you want to have all of your groups are expanded by default, you can go to Menu > Settings to disable the Collapse Groups in Calendar option.
The calendars enclose the interval of 90 days by default; when you want to go onward or backward in the time, you need to use the arrows on the top-right of the calendar. If you want, you can also change the calendar start date from Menu > Settings > Calendar Start Date by selecting how many days from the past you want to see the calendar.
You can choose to option of displaying your calendar in a monthly view. In order to achieve this, you should click the calendar icon on the left of the direction arrows. Please note that you can have a monthly display option for each group.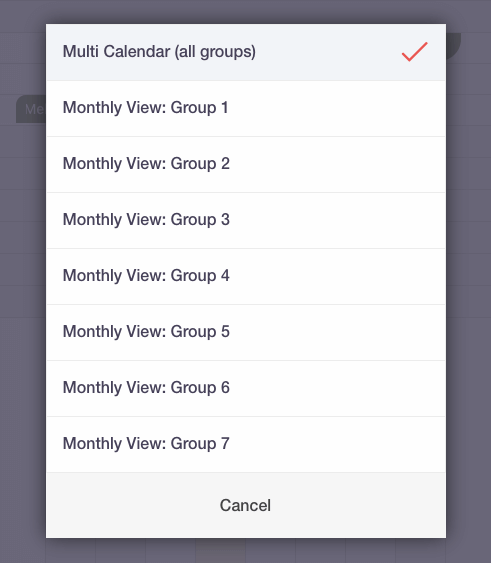 In order to create a manual reservation, you need to select the interval first. You can either drag the cursor to select the date range or click on a single date and choose the specific dates on the opened screen. After that, you can enter the information related to the reservation such as name, email, payout details, etc.
One main use case of Reservations View is to see all the details related to a particular reservation, you just need to click on a reservation to be directed into the Reservation Detail page.