Sharing Calendars with 3rd Parties
In addition to our powerful multi-calendar in Your Porter App, you may need to share your calendar externally with 3rd parties like cleaning teams, homeowners or coworkers.
You can create shareable links for your calendars. It is possible to choose which listings your teammates will be able to view or which information you want to show on your shared calendar.
Shared calendars do not require 3rd parties to download any app. A shareable short link gives them an access without editing privileges.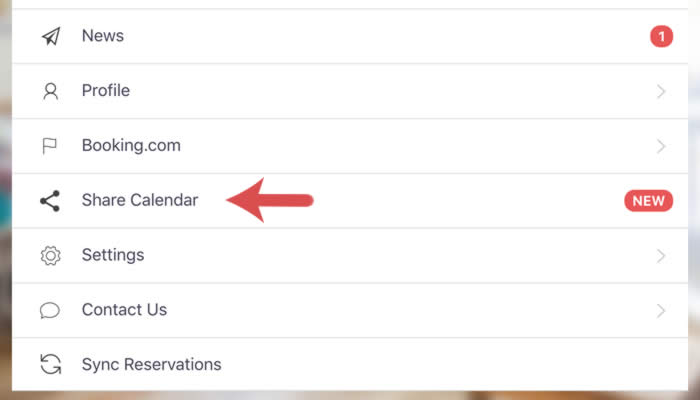 You can create unlimited calendar links with different combinations of listings and information to include. Click Create a link to share and follow 3 easy steps to generate your first shared calendar.
---
Create first shared calendar link in 3 easy steps
Each shared calendar has 2 important settings:
Which listings to show in the calendar
What information to include regarding reservations
1. Choose listings to include
On the first step, you need to choose which listings you want to include in your shared calendar. In order to smooth this process, we rely on the listing groups you created once you add your listings. You can include or exclude your groups here. In case you did not build your structure accordingly, you can quickly go to Menu > Your Listings and arrange your listings within groups.
Grouping your listings under different groups according to location, homeowner or type might be useful when you create your shared calendars.
2. Choose which information will be shared
Depending on the purpose of your calendar, you may want to include different type of information within your calendar. The owner of the link can use this information by clicking on the reservations in the shared calendar. There are numerous information you may choose to include in your calendar:
Number of guests
Guest Phone Number
Guest Email
Notes
Price
Confirmation Code
Reservation Source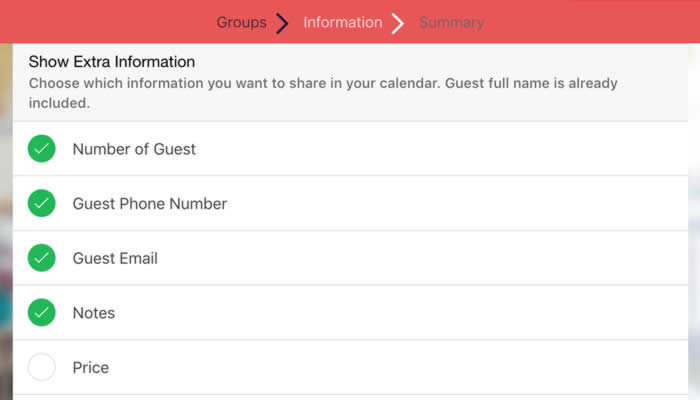 3. Give a nickname to your calendar
Especially if you plan to create multiple shared calendars, it makes sense to give them nicknames to share, deactivate or delete in the future. You can give a nickname to your shared calendar on the final step of creating a link. This is also the screen where you can have a summary of the settings you choose before you confirm.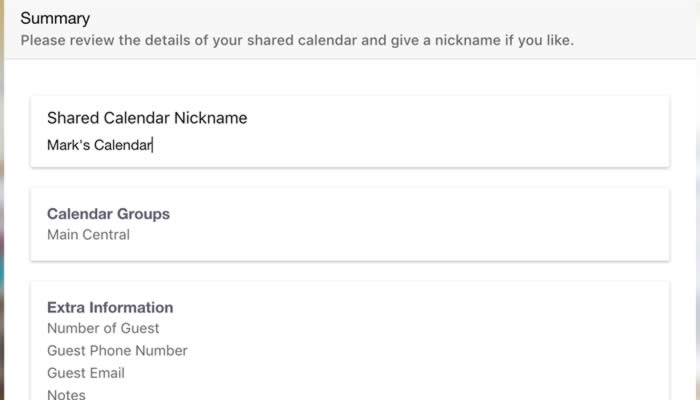 Share your calendar link
After you create your shared calendar link, there are several ways to share it with 3rd parties. You can just copy the link and send it manually to the related person. Alternatively, you can simply click on Share next to the calendar and send it automatically via Email, SMS or WhatsApp.
The shared calendar looks very similar to
Calendar
of Your Porter App, it is just reachable by everyone who has the link and can be turned off if necessary.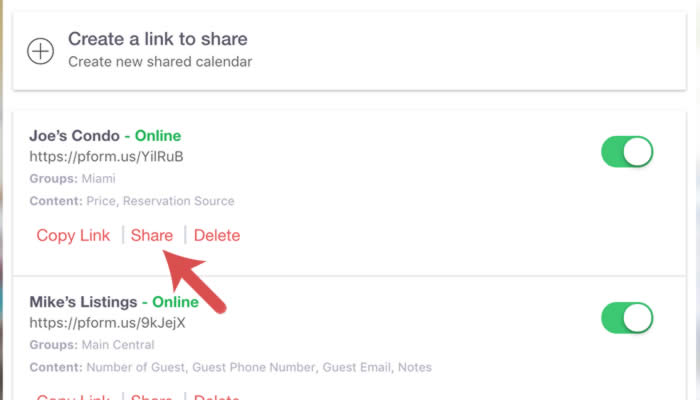 Manage links after you create
After you create and share your link, the owner of the link can reach it on any platform. There is no need to download any app and the link can be used via browsers both on mobile and desktop devices. Once you want to pause the access to the shared calendar, or you want to delete it completely, you can use the green toggle or simply delete button to manage.