Importing Airbnb Listings
Once you are under Menu > Airbnb, after clicking Listings on the right-hand side, the listings belong to the related Airbnb account will be listed. You can click Import and easily integrate this listing to Your Porter App.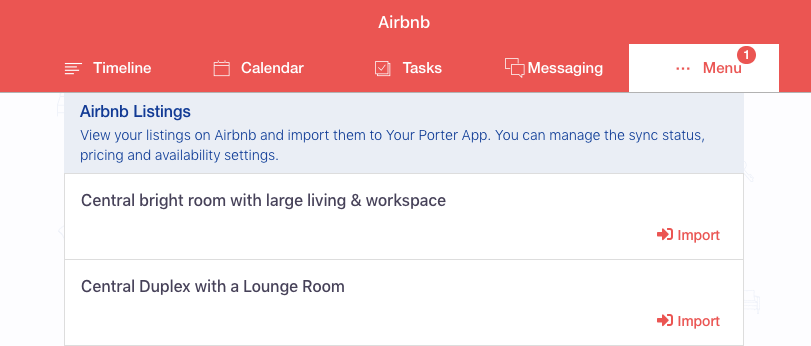 While importing into Your Porter App, you are able to give a nickname and select a group for your Airbnb listing. You can even create a new group easily by clicking Add to New Group option below.
Then, you need to select your Sync Type. There are two types: Pricing and Availability and Everything. The first one means that we control your prices and availability from our platform via Airbnb connection and 'Everything' type of connection means that you can also change the description of your listing etc. from our platform.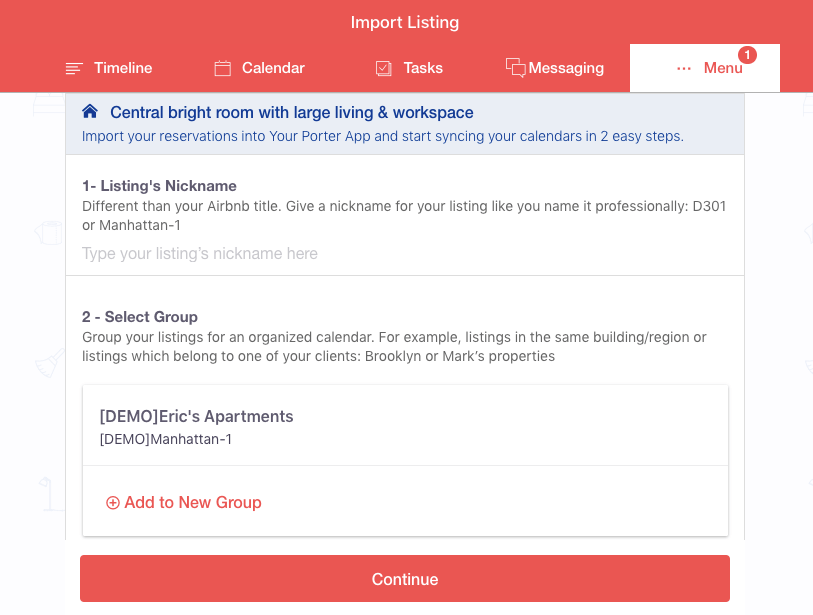 After you click Continue at the bottom of the page, a pop-up will be opened. Please thoroughly read the items on that list. As stated there, native connection leads to some changes for your listing on Airbnb.
Since these changes are related to the channel manager structure of Airbnb, you should have a comprehensive understanding before the connection is established.
Instant book

will be turned on.

3rd party iCal links

on Airbnb calendar should be imported to Your Porter App to be able to maintain the sync with those channels for future reservations.

Early bird

and

last-minute discounts

will be removed on listing level.

Linked calendar settings

will be removed.

Airbnb smart pricing

will be turned off. (You can keep using 3rd party dynamic pricing software.)

Guest requirements

will be reset during import. (You can set your guest equirement preferences later on again.)
Please note that you will be able to add 3rd party iCal links and set up discounts via Your Porter App.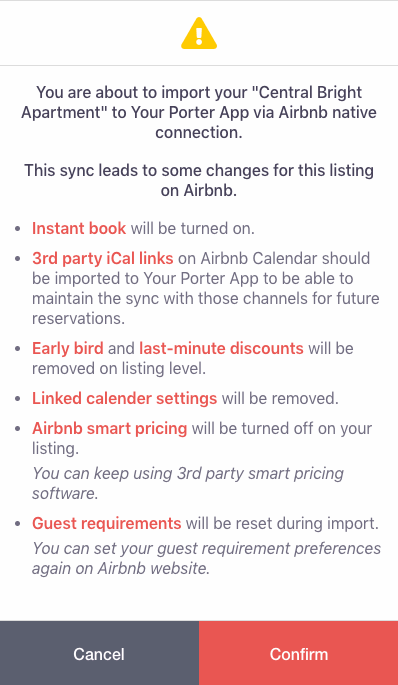 After you click Confirm, you will be directed to the list of your Airbnb listings, and you will see that Your Porter App is IMPORTING the Airbnb listing you confirmed.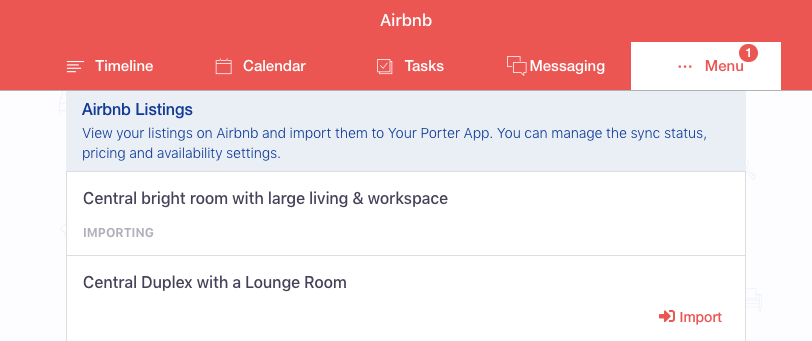 When the import process has finished, you will see the status of your listing as Everything or Pricing and Availability. Then, you can adjust the settings about your listings by selecting them.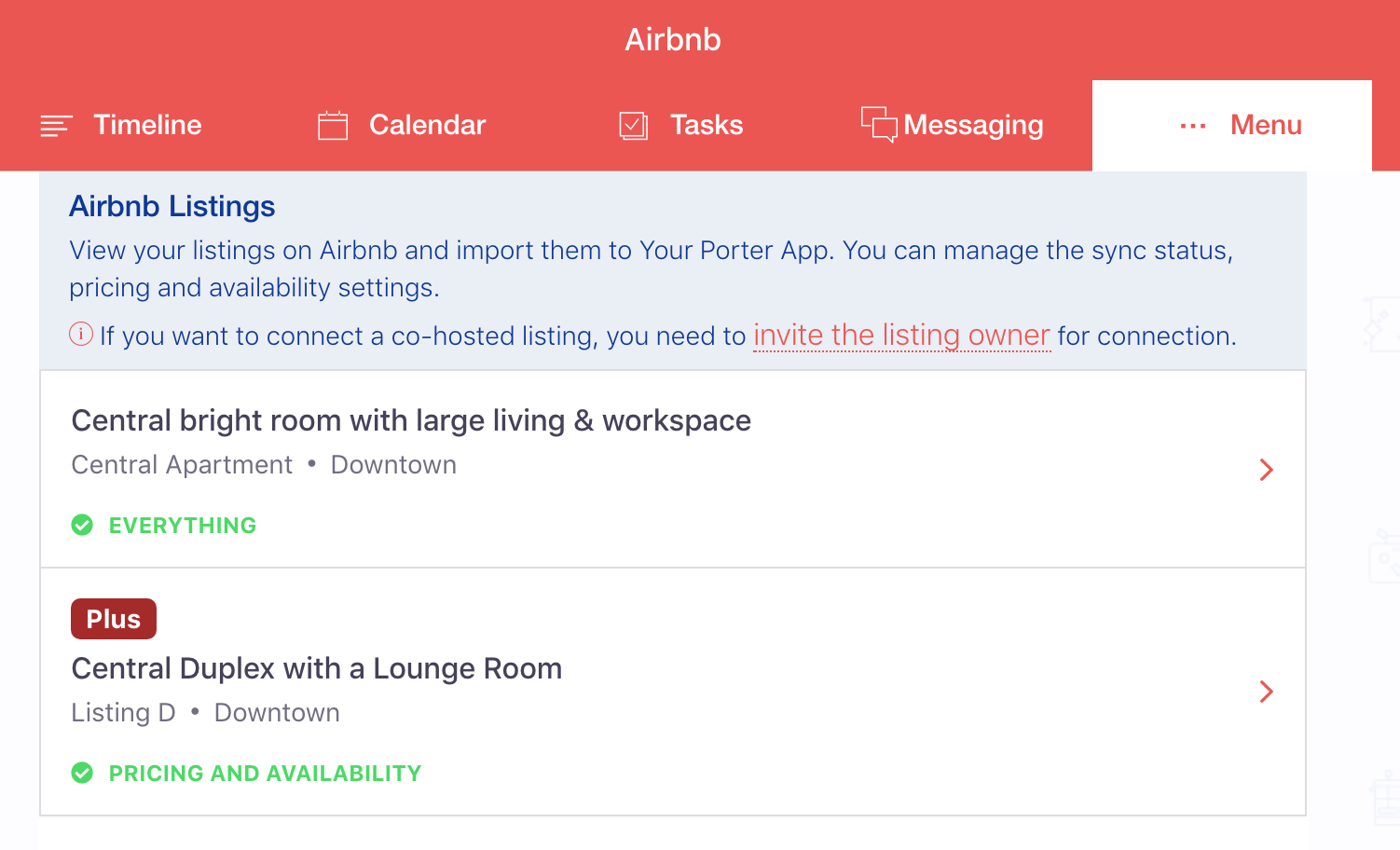 After the connection is established successfully, you can continue with adjusting rates and availability settings, you will have powerful control over your Airbnb listings through Your Porter App.
Grouping your listings
When you add your listings to Your Porter App, we ask you to group them together. Groups can be very useful especially for hosts with multiple listings. The listings under the same group will be visible next to each other on the calendar and have the same color.
You can group your listings according to the location, owner or type.
Groups can be edited anytime by clicking edit on the header of the group in My Listings page. You can change the name and the color of a group. If you want to move a listing from a group to another, just click More next to the listing and choose Move.