Overview of Income Reports
Income Reports prepares a detailed price breakdown for each listing you have on Your Porter App. You can view the monthly total of accommodation fee, cleaning fee, alterations, and platform fee within reports. In addition to that, if you calculate a commission or payout for third parties, you can create a rule within each reports depending on your business model. It is possible to define the rule very similar to Airbnb's co-hosting payments. You can set different percentages for accommodation, cleaning, and platform fee.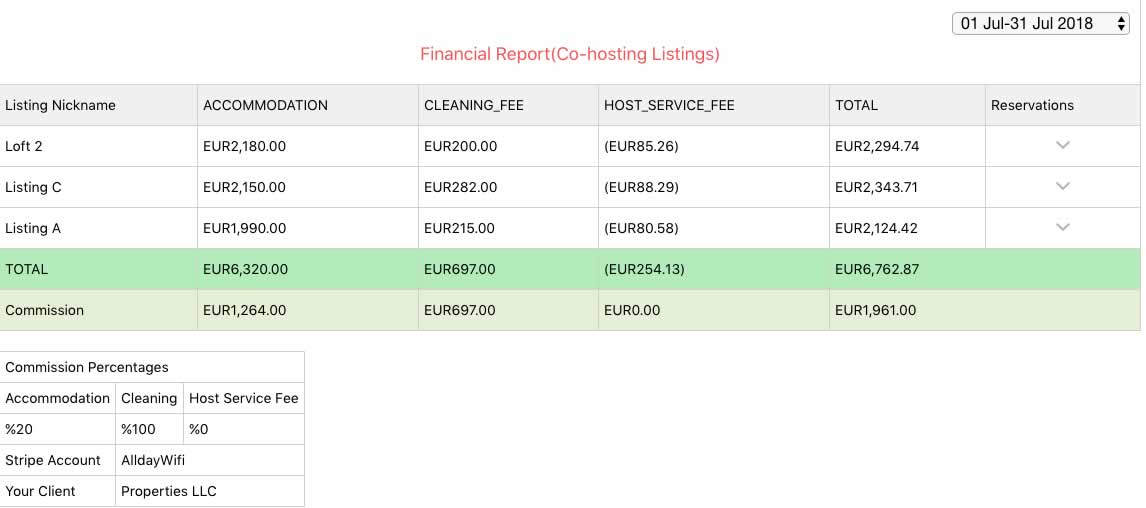 Let's say you get 20% of the accommodation fee, 100% of the cleaning fee at the end of each month. When you create your commission rule accordingly, Your Porter App calculates the monthly commission for each listing.
If you send invoices to third parties for your services, you can add clients to your account and send them automated invoices each month. You can preview invoices before sending them to customers. It is possible to add additional items to invoices. Once ready, Your Porter App creates an invoice via Stripe and sends it to your client. Invoices include an online payment link for your clients to pay with credit card. This feature requires a Stripe account to collect payments.
If you collect the payments and send a payout to third parties, you can define your rules accordingly and create a payout report at the end of each month. In this case, you will handle payouts to your clients manually.
Adding Clients
Clients are individuals or organizations, to whom you send invoices via Your Porter App. If you ask the commission for your services at the end of each month, you can create clients with billing address to send automated invoices. If you are handling the payouts by yourself or collect the whole payment and then send a share to your clients, you may ignore creating clients.