Income Reports
After you create your reports with your rules and connected listings, you can view your income reports at Menu > Income Reports > View
The reports are prepared for each month. You can view different dates by switching the interval from the top right corner.
By default, each report has 4 columns of data: Accommodation Fee, Cleaning Fee, Platform Fee and Net Payout.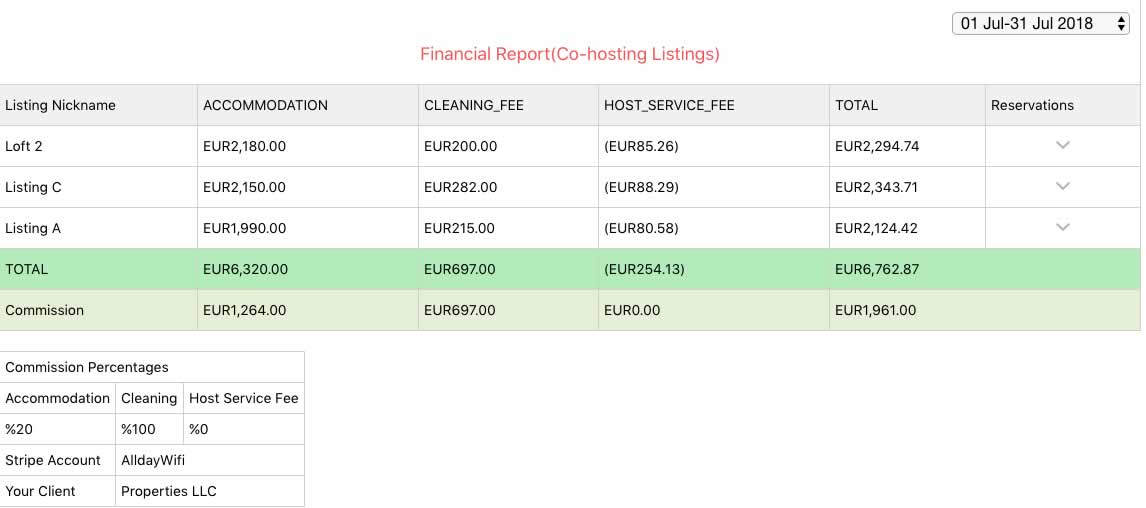 Detailed Reservations View
The payouts are calculated according to the check-in date of each reservation. If you want to see the reservation details of each listing, you can click on the small arrow on the right column. This will show you all the reservations which are included in the sum for this listing. If any data for a reservation is missing or there was a modification in the reservation or payout, you can click on the Refresh icon in the right column. This will update the data from Airbnb to check if anything is changed in the payout. If the payout changes, your report will be created again with the updated data.
Extra payout items
In addition to default 4 columns, if one of your reservations has an additional payout item like cancellation, alteration or extra services, it will be visible on the table as 5th column. When calculated, extra payout items will be included in accommodation fee.
Commission
At the bottom of the table, just below Total row, you will see your calculated commission if your rule includes commission settings. You can also view your commission rule at the bottom left of the page.
If everything looks fine, you can note down the commission for that month. If you are using Your Porter App's invoicing system click Preview Invoice to view the invoice for that income report.
Invoicing
On this page, you can view your invoice draft with a detailed price breakdown. If you want to change the language of invoice items, you can go to your Setting page to edit the labels for invoice items. It can be useful if you are sending invoices in your local language.
Before you send your invoice, you can add extra items to your invoice. It can be a cost for maintenance or an administration fee.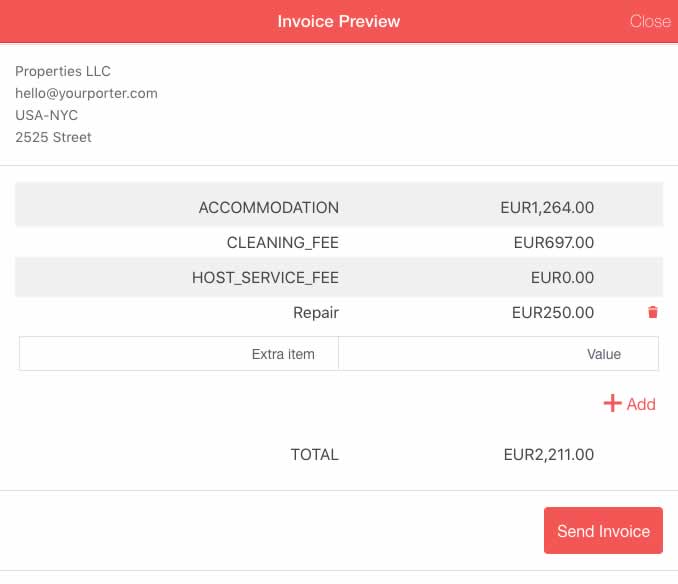 Once you make sure your invoice is ready to send, you can click Send Invoice to send the invoice to your client. We will automatically create a customer in your Stripe account and add this invoice to that account. Stripe will send an automated email in an hour to your client with the invoice and an online link to make the payment. You can make changes in the invoice within the first hour after you create it. If you do not delete the invoice from your Stripe account in an hour, the email will be sent to your client without any further actions from your side.