View Income Reports
After you create your reports with your rules and connected listings, you can view your income reports at Menu > Income Reports > View Income Reports.
By default, the reports are prepared for each month. You can simply adjust the dates from the top right corner and view different periods in your reports.
Each report comes with specialized Financial Overview Cards depending on your business model. You can customize these cards from the Report Data section on the top right corner.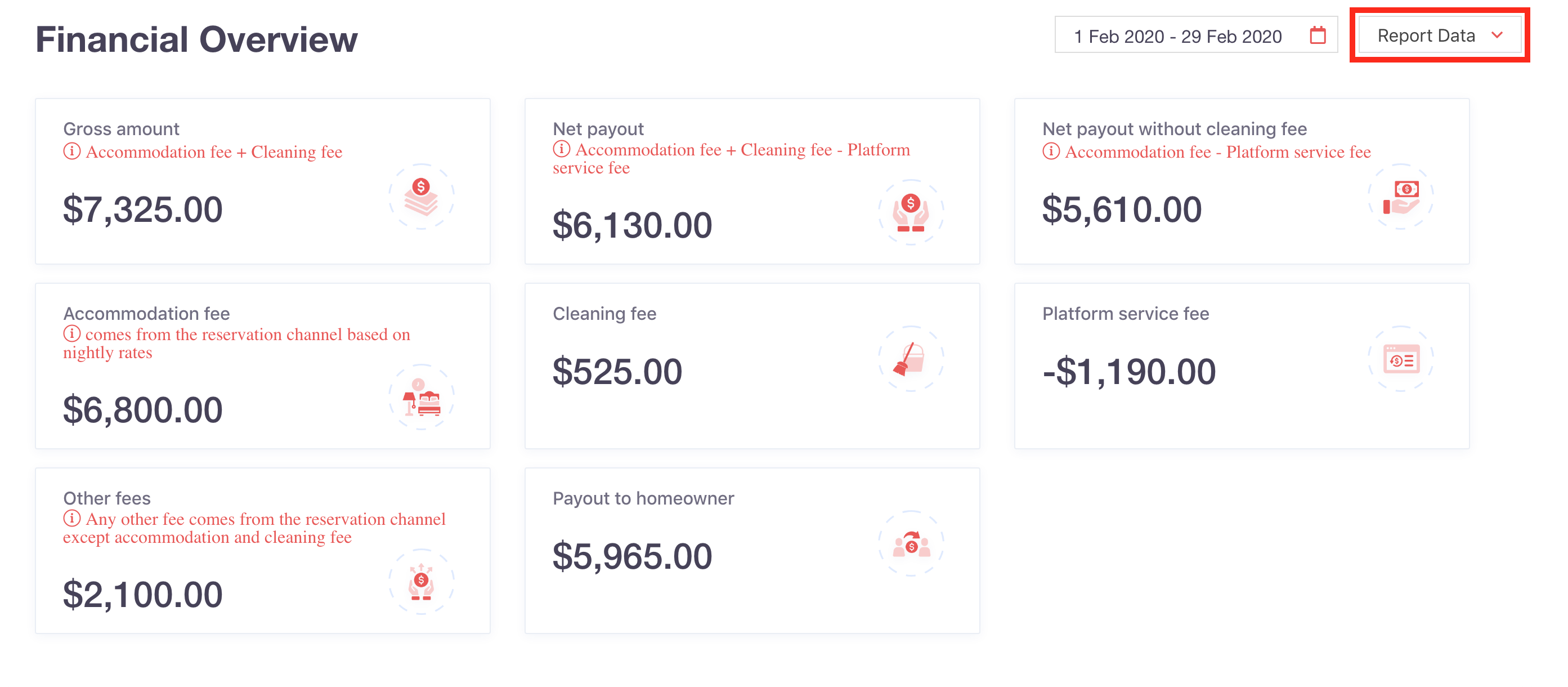 You can also take a look at the calculation method of each financial overview card from the list below:
Gross amount


Accommodation fee + Cleaning fee

Net payout


Accommodation fee + Cleaning fee - Platform service fee

Net payout without cleaning fee


Accommodation fee - Platform service fee
Accommodation fee


Comes from the reservation channel based on nightly rates

Other fees


Any other fee comes from the reservation channel except accommodation fee and cleaning fee
Breakdown
You can see the detailed price breakdown for each one of your listings and for each reservation as well. The data in this section is collected from all your channels displayed according to your selected financial overview cards.

You can easily switch between Listing View and Reservations View.

You will see that there are three little dots on the right side of each reservations in the reservations view. You can change the payment date, see reservation details, or refresh payout data manually when it does not match the actual data on the platforms by simply hovering your mouse over these three dots.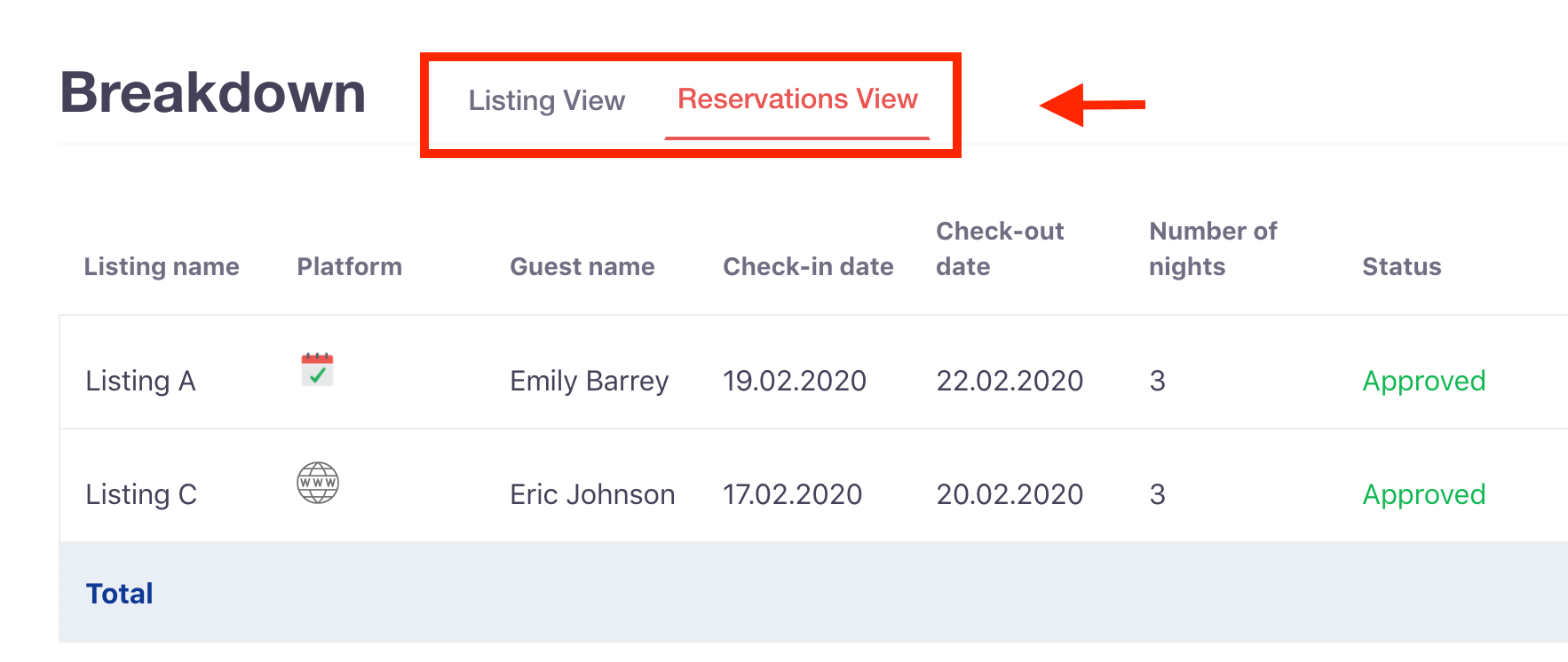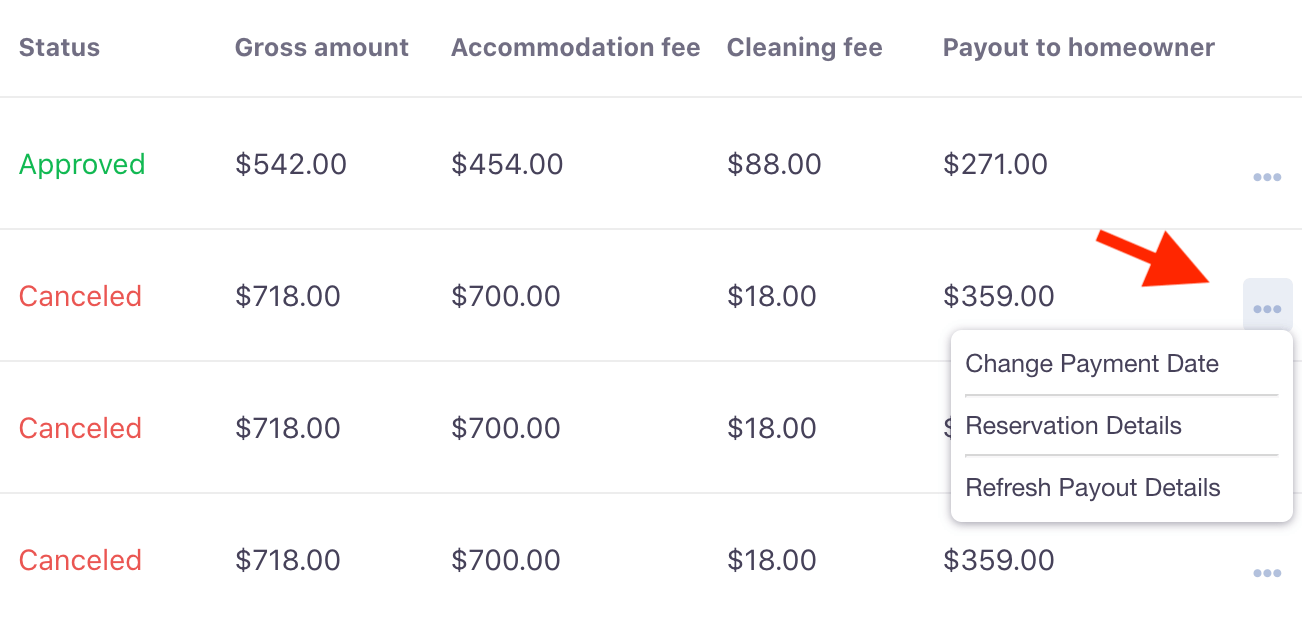 We gather all reservations from all channels that have a payout data. You need to fill out the payout details for your iCal reservations and manual reservations within your selected period. Once done, we will automatically add them into your report.
Customize Report Labels
You can customize the labels of income reports by going to Menu > Income Reports > Income Report Labels. For instance, you can change them to your local language.
Additional Adjustments
Your Porter App allows you to export your income reports into an Excel file. In this way, you are able to work on your data for your business needs.
You can also add Other Fees to Accommodation Fee, Net Payout, and Gross Amount now. They will be included in commission calculation in this way.
You can find these features on the Actions interval at the top right corner of your income report.