Message Templates
Each automated message is linked to a template. Therefore it makes sense to prepare templates before creating automated message rules.
To create a template, please go to Messaging > Message Templates. By default, we offer 2 examples of templates. You can take a look at those examples and edit them. Alternatively, you can start creating your own template from scratch. Click on Create New Template link to open a blank template editor.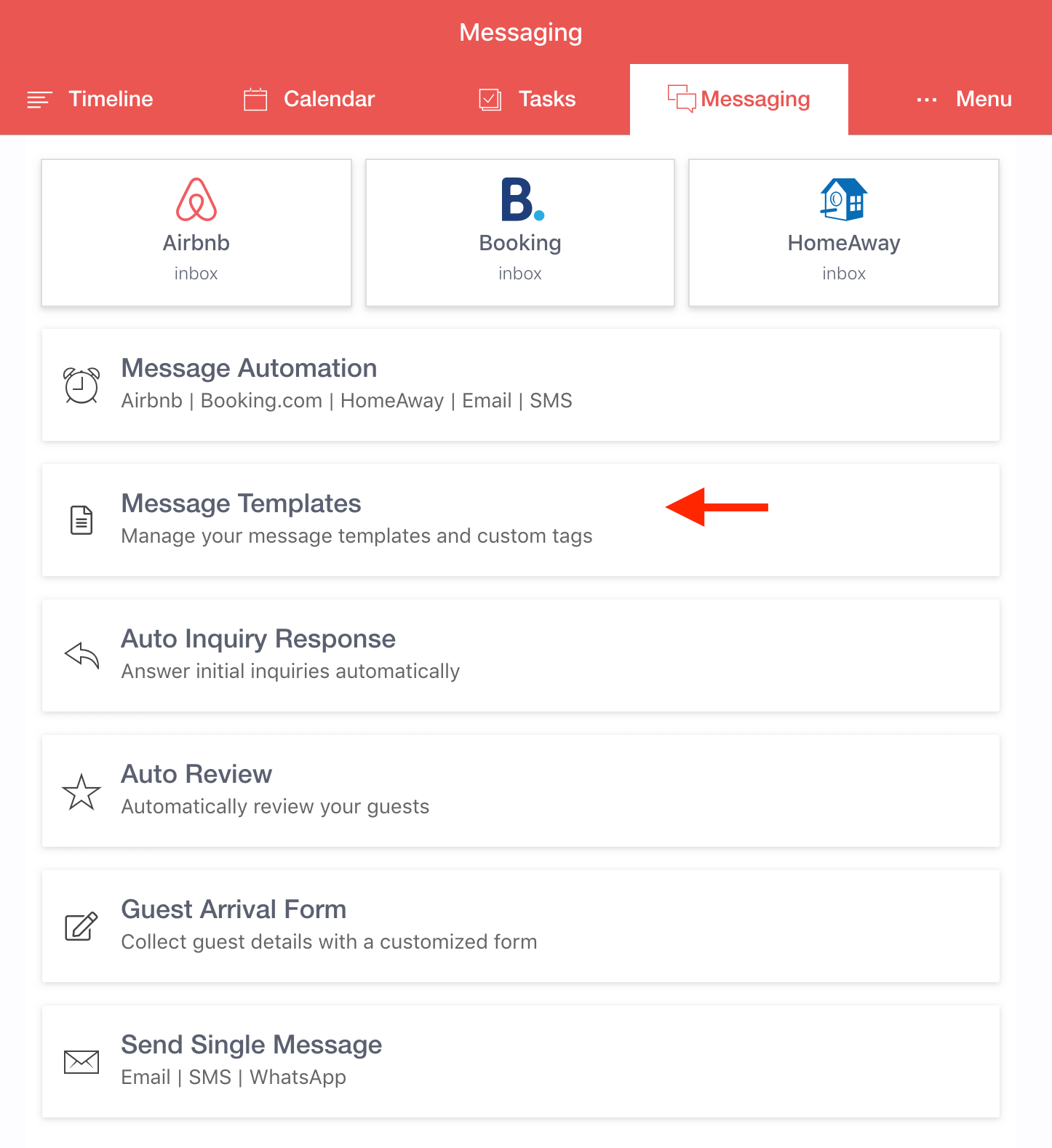 Template Name is for your reference only. You will see the template names when you list all of your templates. It is also useful when you choose a template for an automated message rule or in Airbnb Inbox to send customised messages with a single click.
Please do not forget to add a subject to your template. Although it does not have any function for Airbnb messages, we send automated emails to your guests from other channels like Booking.com and HomeAway. Not having a subject will prevent delivery of automated emails.
Adding Attachment
You can add an attachment to your template. This attachment can be in any file type including PDF, ZIP or JPG files. If you have a welcome pack, a roadmap or photos for directions, adding them to the messages can be a good idea. Please keep in mind that you can only add one attachment to a template.
For Airbnb and text messages, we will include a short link at the end of the message, where your guest can click and download the file. For email messages, it will appear as a regular attachment.
You can upload any kind of documents with a maximum size of 20MB to your attachments.
Customisation Tags
We automatically customise the templates before we send it to your guests. So you have the opportunity to use customised data like first name, check-in time and more. Instead of saying "Dear Guest", you can use your guests' first name in our automated messages: "Dear Michael"
You can click and add the customisation tags which you want to use in your message. These tags will be replaced with the information from each reservation. We have a list of available tags, so you can create beautiful customised tags. The list of our message tags as the following:
Guest Name


or nickname if it is set

Guest Lastname
Check-in Date


in guest's language

Check-out Date


in guest's language

Number of Guests
Listing's Host
Listing's City
Listing's Airbnb Name
Wifi Name
Wifi Password
Check-in Day (DD)
Check-out Day (DD)
Listing's Address
Listing's City
Listing's Airbnb ID
Check-in Day of the Week


in guest's language

Check-out Day of the Week


in guest's language

Listing's Type
Length of Stay
Guest Phone Number
Guest Phone Number (Last 4 Digit)
Reservation Code
# of children
# of infants
# of bathrooms
# of bedrooms
# of beds
Check-in Month (MM)
Check-out Month (MM)
Check-in Time


will be added from the reservation details in Your Porter App

Check-out Time


will be added from the reservation details in Your Porter App
Templates in Multiple Languages
If you are using several languages in your communication with your guests, you can also automate your messages in different languages using Your Porter App. Each template can have different versions in different languages. For example, if you are using English and Spanish for your communication with your guests, then you need to create a Spanish Version of a Template in addition to the default English version.
We will automatically detect the language your guest is using and send the related template in the correct language accordingly. We detect languages for Airbnb reservations according to the first message sent by the guest and for the Bookingcom reservations, we detect the preferred language from the guest's country. Therefore, you do not need to select the language of each guest for Airbnb and Booking.com reservations.
Once your templates are ready, you can start creating your message automation rules.
---