Template Variations for Different Platforms
You can specify different messages in the same template for different platforms.
In order to do that, please go to Messaging > Message Templates > View Message Templates and click on the one you want to add a different platform message.
Click "Add variation for a Platform". It is on the right top side right under Menu.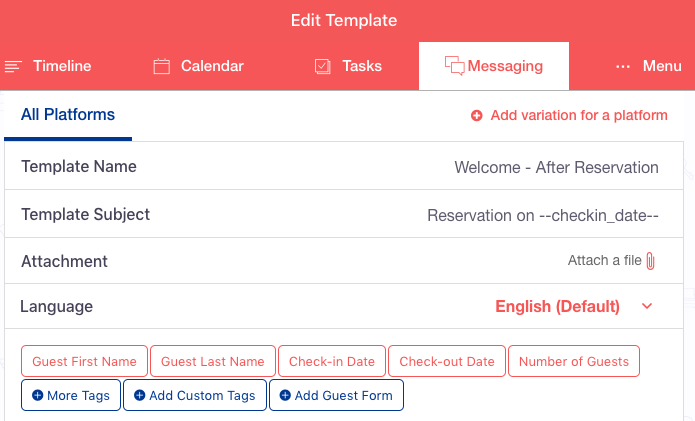 Select the channel you want and click Add.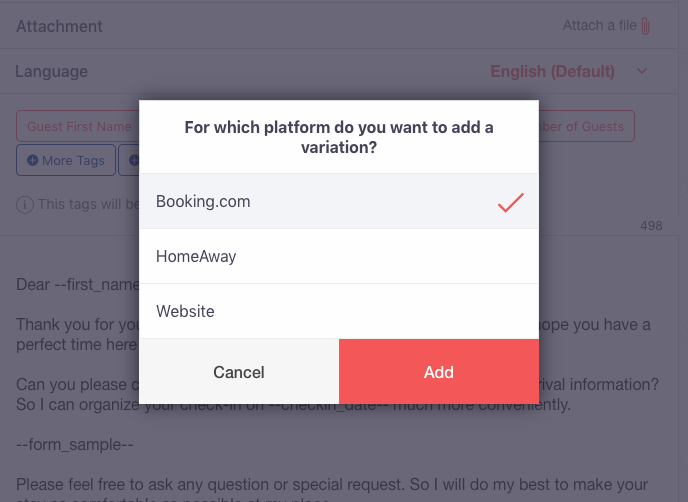 Write or copy your specific message for this channel. Click Save.
After that when you receive a reservation from Bookingcom, HomeAway or direct booking website, the automated message rule will send the template you specified for this channel. If you do not specify a message for a platform the default message (Other Platforms tab) will be sent to your guests according to your Automated Message Rules.
Send channel-specific automated messages
If you want to send your automated message for a specific channel using this template, you can toggle off the channels that you do not need.
Once you create an automation rule with your customized template, it will be sent to the channels you toggled on only.
Please kindly note that you do not need to create different rules if you already have active automated message rules using the customized template. Your changes will be applied to your existing rules without any issues.