Daily Task Messages
Your Porter App can send automated daily task messages to your teammates to inform them about operational tasks like cleaning, check-in, check-out, and laundry. Let's say you have a cleaner and you can send him/her a list of cleanings (check-ins or check-outs) one day in advance at 18:00.
This feature is very useful if you do not want to share your Airbnb account with your teammates or you have reservations coming from multiple platforms. You can even choose which information to include in those messages regarding the reservation. For example, you do not need to share the guest name with your cleaner, but you want your key exchanger to know the name and phone number of your guest. All of those options are customizable in Your Porter App.
Teammates can be responsible for different sets of listings and can receive those message as email or SMS (text) on the exact time of the day.
In addition to check-in and check-out related tasks, you can send a message to your teammates whenever a new reservation is confirmed. This is useful if you work with a professional company, so they can add the job to their calendar. Alternatively, it can be a good feature for informing homeowners with related information whenever there is a reservation on their property.
Your teammates get an email or SMS (text) message with a summary of the task (name, listing, date) and a short link to reach details about that tasks. Your teammates do not need to download any app to reach those details. All they need is any smartphone with an internet connection.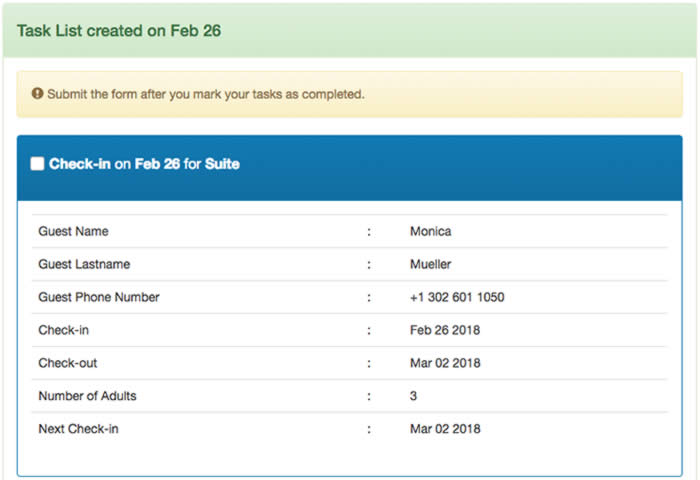 Using this online form, they can mark those tasks as completed and you will get a push notification immediately on your mobile devices about the completed tasks. This way, you can follow up on tasks you assigned to your teammates.
In addition to daily reminders, you can send weekly or monthly task lists to your teammates and help them to plan their schedule in advance.