Weekly Task Lists
In addition to daily task reminders, you can share upcoming tasks with your teammates as well. Depending on your choice, you can let your teammates preview their tasks 7, 15 or 30 days in advance. It is also an opportunity if you want to print out upcoming check-in/out list to have some offline work.
This feature is connected to daily task messages (task automation) and shows upcoming tasks for each teammate on a separate list via a sharable link. This means, in order to use this feature, you need to have a task automation rule or create a new one in Tasks menu.
A task automation, which is scheduled to the exact day of check-in or check-out would be the best practice for using weekly task lists.
Weekly task lists are connected to each teammate and the link is unique for each teammate. It can be obtained at Tasks -> Teammates -> Copy Overview Link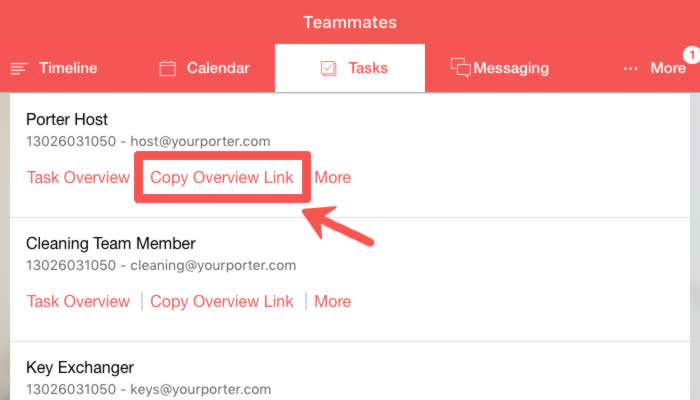 You may have multiple task automation rules and you only want some of them to be included in the weekly task list. In that case, you need to create a new teammate and attach task rule to that teammate. When you get the weekly task list for your new teammate, it will include tasks which are related to the new rule you have created.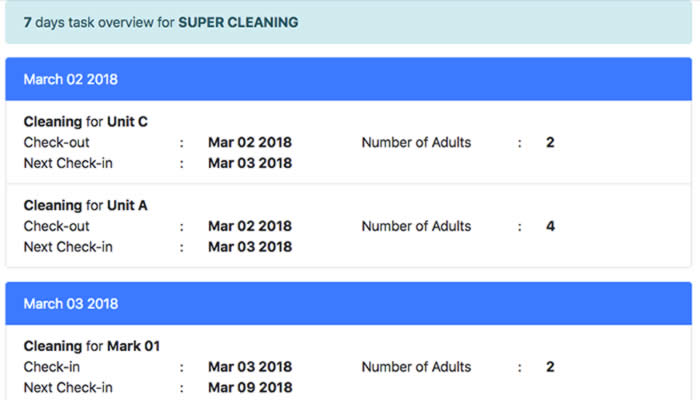 Working Together with Daily Reminders
Since weekly task lists are connected to daily task messages, in addition to a weekly preview of tasks, your teammates will keep getting reminders via SMS and email on the scheduled day of that task. While it might be helpful to remind on a daily basis and follow up the assigned tasks, you may find that too frequent communication with your teammates would not be ideal.
In that case, changing the email address of your teammate to delete@yourporter.com and create an email notification will solve your problem. While your weekly task list will be fully functional, and you will be able to see individual tasks in your app, your teammate will not get any daily notifications.
Duration of task lists
By default, task overview lists will show all tasks connected to the selected teammate for upcoming 7 days. That's why we call them weekly task lists in this documentation. You can change this duration to 15 days or 30 days in Settings menu.