Editing Listing Details
You can determine which listings will be listed on your website in this section by going to Menu > Website Builder > Edit Website > Listings page. If you want them all to be on your website, please simply click on the 'Select All' option.
Your Porter App is an Airbnb-based application. We get all the required information regarding your listings from Airbnb and then, push it to your website. Also, you can change some of the details after creating your website by going to Menu > Website Builder > Edit Website > Listing Details section.
We push the necessary information to your website during building your website for the first time. If you update your listing details on Airbnb and want to push them to your website, you need to click on the Refresh button at the top of this section.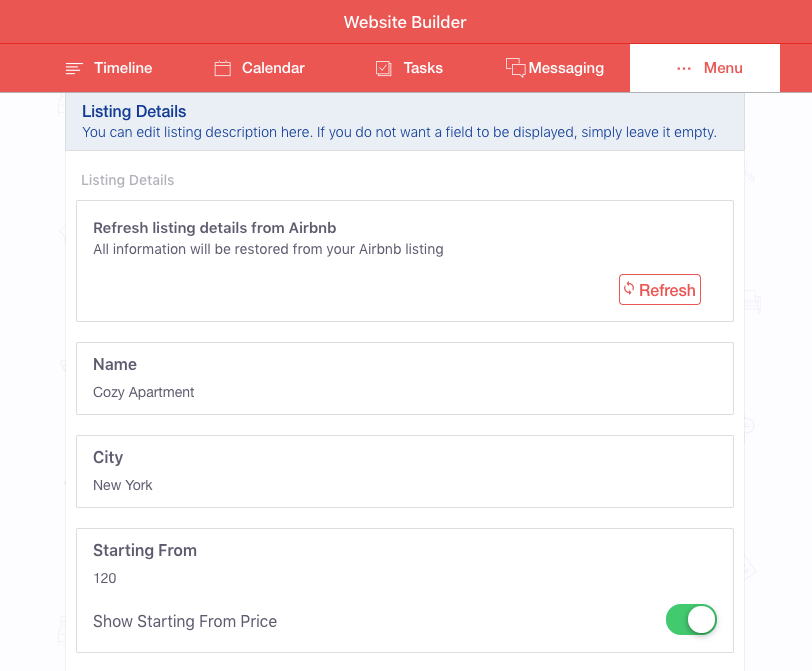 Also, you can edit some of the details below regarding your listings, such as Name, City, Starting From (for the price of your listing), Person Capacity, Bedrooms, Beds, Bathrooms, Summary, Description, Space, Access, Notes, Interaction, Neighborhood Overview, Transit, House Rules, Amenities.
Please do not forget to click on 'Save' button when you edit something for your website.